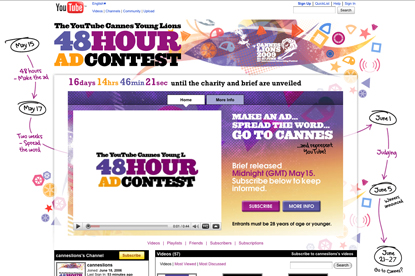 The Team YouTube winners will represent the video sharing website in the 2009 Young Lions Film competition.

YouTube will launch the 48-hour viral film contest on 15 May. Entrants, who must be aged 28 and under, will be given a brief for a yet-to-be-disclosed international charity.

The competition will close at midnight on 17 May, after which time contestants will have two weeks to generate as many views as possible.

An expert panel will judge the entries based on creativity, number of views and video ratings before selecting two winners.

The winning pair will be awarded an all-expenses paid trip to Cannes, as well as the chance to compete as the 38th team in the prestigious Young Lions Film competition.

Lorraine Twohill, the vice-president of global marketing, Google/YouTube, said: "We are delighted to team up with Cannes Lions, creative agencies and the wider creative community around the world to create a new 'YouTube team' entry for the Young Lions film competition.

"This is a great way to encourage young creatives in traditional media to grasp new media tools and develop an innovative viral campaign for a leading charity."

Go to youtube.com/canneslions for more information and to submit your entry.