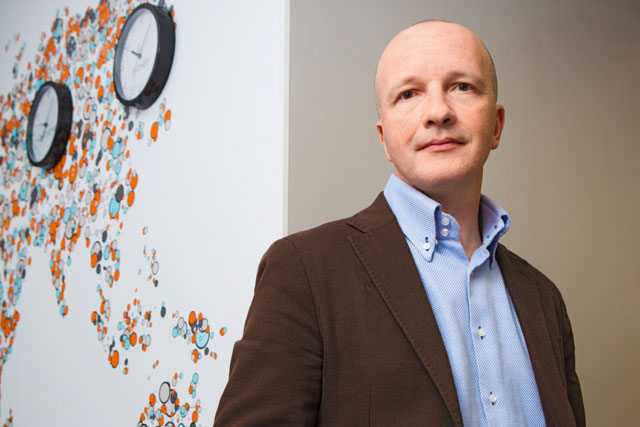 Marketing has its roots in the creative industry yet is under increasing pressure to prove itself with numbers.
According to The CMO Survey, two-thirds of top marketers say they feel pressure from their chief executive to prove the value of marketing –revenue created, the number of leads generated and engagement with the brand. But how often are these results fed back into the creative and conceptual phase?
Like it or not, marketers are playing a numbers game, and the marketing mix focuses heavily on data and insights as well as appealing creative. New tools allow instant analysis of huge volumes of data and target audiences in more intelligent and meaningful ways than ever before. This enables marketers to direct strategic decisions, base campaigns on real insights and prove ROI.
Data and creativity: two halves of a whole
It could be argued that the best ideas in marketing come from data insights because they are calculated and proven. Just a few years ago, marketers didn't have access to such detailed data – they didn't even know whether their ad had been seen, let alone engaged with by the right people.
Marketers no longer have to guess or base campaigns solely on big ideas – they can use data to produce more effective and strategic creative work. For example, A/B testing can be used to see which messages lead to increased engagement or conversion. Second, data can be used for dynamic creative optimisation so that the experience is personalised for each customer based on their previous anonymised preferences. By mining insights, there is less risk for brands; they know they are targeting the right audiences and are able to target them more successfully.
Making data work
However, the plethora of data available has made digital marketing increasingly complex, and the pace of insight can be intimidating. By using a data management and analytics platform, brands are now able to instantaneously access and analyse all relevant data sources, including first-party data such as e-commerce results, CRM information and offline sales.
Media agencies and marketers can use demand-side platform solutions to help plan, implement and track campaigns across multiple digital channels, using data based on anonymised audience profiles to inform buying decisions in real time.
Using nuggets of information such as interests, activities, preferences and buying habits, data insights provide a complete picture of a target audience, meaning that advertisers can now take an "audience first" approach to ad buying – focusing on reaching the target with the right message, rather than which channel to use. The combined power of a data management platform and demand-side platform enables truly customised solutions that both address the needs of the brand and deliver incremental benefits to customers through increased relevance.
With this outlook, marketers can finally think outside of the ad format and get back to what is most important: engaging in meaningful interactions with customers. With better insights, data and analytics, brands have the tools to deliver the consistent and personalised experience consumers expect.
Brands can also use data to get a better understanding of how to stand out from the competition – and, with better data insights, they can stay ahead of the game. For example, Turn's Advertising Intelligence Index reveals that, in Europe, the mobile market is more competitive than the video market. Across the rest of the globe, advertising on mobile is becoming less competitive; increased supply has kept prices down and, as a result, there are huge opportunities for brands to reach audiences across this channel.
'Data analysis is quickly becoming a key element of marketing'
The ongoing challenge around big data is that there is so much of it. Do marketers know how to harness the right elements? Are brands and agencies making the most of the data insights available to drive their advertising – and business – strategies? Gartner recently released a report stating that 56 per cent of companies struggle to grasp how to get value from their data. While the amount of data available can be daunting, the quality of it and how it relates to your brand's objectives are the most important factors. Marketers shouldn't feel as though they need to use all of the big data that is possibly available if it won't actually add to their brand's business goals.
Once the right data points have been identified, the critical step is making sure the mindset and processes are in place within the company to be able to adapt and implement the insights that have been uncovered. While any shift in mindset can be difficult, big data must be turned into big action.
Findings are wasted if identified opportunities are not driven forward: like having a Maserati and taking it up to only 50mph. The trick is in creating the right environment for the golden nuggets of information to get through to the people who need it to inform decisions.
Feeling inspired?
Data analysis is quickly becoming a key element of marketing and is now entwined with creativity. Data should be inspiring businesses to make strategic decisions as well as creative ones. Data isn't just about numbers; it can inform creative advertising and wider processes too. The strategic placement of an ad and the ability to respond to real-time trends and browsing behaviour allow brands to drive better engagement and improve effectiveness.
As a result, data insight tools can deliver back to the wider business, ultimately driving greater ROI.


---
Pierre Naggar is the managing director, EMEA, at Turn