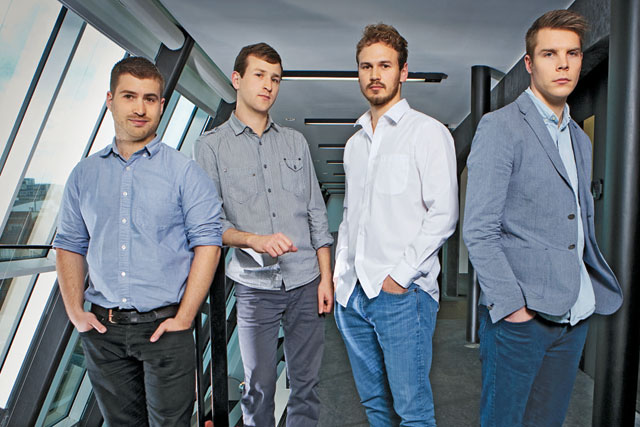 Matt Barrett, sports marketing and sponsorship manager
Am I creative? Could our own idea ever win at Cannes? As children, we are often told how creative we are when we play music, act, draw or write short stories. But when we end up working in the creative industries, few of us seem to do these things so much any more. Instead, we are tasked as individuals – but more often as a team – with finding a spark for the next "big idea" or story for our clients.
It begs the question: is creativity about natural individual talent, or putting in place the structures and environment for creative thought to flourish? The most creative people can struggle if restricted by their surroundings, distractions or lack of time for thought.
There is always a place for the genius and imagination of a visionary. It's something we all aspire to, myself included. So, on my first trip to Cannes, I am looking for the individual quirks and principles that are the hallmarks of a natural "creative", but also for the team cultures, mentalities and attitudes that allow original ideas to thrive. Is a eureka moment enough to become a Cannes winner, or is it more important to be open to inspiration and create the right environment to let people's natural creativity flow?
Reports from Cannes sometimes give the impression that creativity is dominated by a select few who churn out award-winning campaigns at will, and that all roads lead to an award entry, an idea realised. We want to go deeper, looking at the teamwork, the culture and the people that brew creative and innovative thoughts.
Edward Jones, account director
There has always been something impervious about Cannes Lions, particularly for me, a PR man. It's hosted in a city that does exclusivity like few others, celebrating an industry to which PR has historically been the poor relation. Therefore, it seems apt to be attending the festival at a time when the lines between earned and owned media have never been more blurred.
PR now, rightly, has a voice at the table, and I have an agency willing to invest in my attendance. Thank you, Hill & Knowlton Strategies.
In this world, where all manner of organisations compete on the strength of their ideas, each of them believing theirs' is superior, how do you determine the truly creative? As an acquaintance recently argued, conjuring the spirit of Matthew 7:16, the simplest answer is: ye shall know them by their fruits.
As an event where all interests with a stake are represented, Cannes appears the only real bastion of creativity in its truest sense. I, alongside three colleagues, want to live it and expose it.
During the festival, we will profile leading individual creatives to explore this perception, uncover their journey at Cannes and, hopefully, do something memorable each day.
Ye shall judge me by my fruits.
'We want to look at the teamwork, culture and people that brew creative thoughts'
Ross Jenkins, partnership executive
There is no doubt my first Glastonbury Festival was the best. It is with growing excitement, as I prepare for my first Cannes, that I remember Glasto and what it was like to imagine the scene before I had ever been. I had spent years listening to albums, hearing snippets of what artists were like, what they stood for and what their place was within the larger music scene. But it wasn't until I was there in that totally dedicated space that it all came together and made me realise, truly, why I have a genuine passion for those songs and the music industry.
The first of something is often exciting, a buzzing mix of apprehension and expectation. Your "first" involves experiencing something that, until now, you have only heard about through others. Second-hand news morphs into your own experience. You begin to create and spin your own festival stories; you've earned the right to tell others what it's really like.
At this early stage in my career in PR and sponsorship, I hope that Cannes provides me with something similar to those first Glastonbury moments, of realising what creativity and innovation mean to our industry, experiencing them first hand and in their purest form.
Glastonbury provided me with musical meaning; let's see if my second major festival can provide some creative clarity. I hope to learn things that both benefit Hill & Knowlton Strategies and our clients.
Alex Wilson, account executive (digital)
While we try to keep up to date with the work produced by our industry across the globe, in the frenetic
agency world of tight deadlines and constant client demands, it is easy to develop tunnel vision and lose sight of what it is possible to create.
Out of everything, I think that is the most exciting thing about Cannes: it promises those of us who are lucky enough to attend the opportunity to take some rarely afforded time to expand our horizons and really appreciate, evaluate and enjoy the best work on its own merits.
In the end, it's about sticking a rocket under your own backside and remembering exactly why you got into this industry in the first place. There is no substitute for seeing a truly outstanding piece of creative and feeling that sense of real annoyance that someone else – not you – created it. It forces you to come back to your rain-sodden office with the grim determination to create something that doesn't merely satisfy the client's brief but exceeds it and makes its mark through the sheer weight of cultural relevance.
More than anything, it forces you to raise your standards and ask yourself what it's really possible to achieve.
And remember – we will all be armed with a camera, so be on your best behaviour…
---
Matt Barrett, Edward Jones, Ross Jenkins, Alex Wilson, Hill & Knowlton Strategies