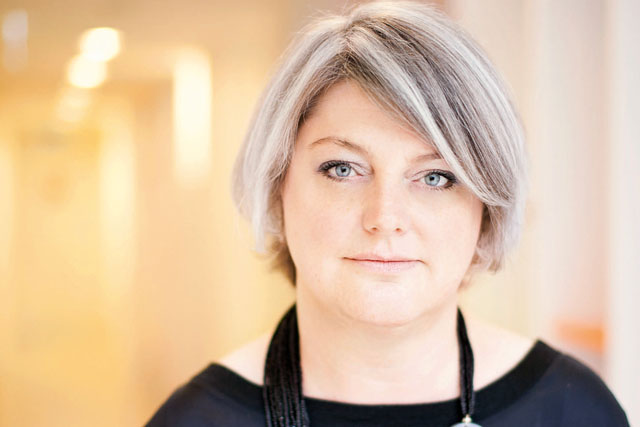 They say the oldest profession in the world isn't prostitution, it's communications. Speaking as the founder of a reputation management business based in Amsterdam, and with a newly founded London outpost in Soho, the comparison is not lost on me.
If that sounds somewhat hard to swallow ("said the actress to the bishop"), just think about the key attributes you need to get ahead in both fields – creativity, reinvention, strong people skills, professionalism, sensitivity to the wants and needs of each specific client – and don't even get
me started on clearly defined KPIs. In Amsterdam, at least, women at the top of their game, or on the game, are everywhere. However, all too often in advertising, you will find a group of big cheeses is an oestrogen-free zone.
Don't get me wrong – there are brilliant women doing utterly incredible things all over the world today. However, there still seems to be a real lack of female visibility when it comes to flag-waving excellence in creativity across the board and in the boardroom.
Networking and mentoring
This year, I have been working with SheSays, a global creative network for women led by an amazing group including the Mr President creative partner Laura Jordan Bambach. Founded in London, but currently well on the way to world domination, SheSays runs free mentorship, courses, career management, networking and thought leadership events. And, strangely enough, before this year, the only thing missing was an Amsterdam chapter.
Earlier this year, FinchFactor organised the first SheSays Amsterdam event. We were all surprised by the reception it received from the 75-plus women (and more than a handful of men) who attended. While sometimes speakers at industry events can fall into the trap of being too self-aggrandising, too theoretical, too "salesy" or simply too bland, each of the four on this night was perfectly pitched in terms of personality, authenticity, "flavour" and relevance. Each spoke honestly. Feedback from the bar afterwards demanded: "Why isn't there more of this going on?"
That is why it is incredible, and very encouraging, to see that the biggest and best event on the creative calendar – Cannes Lions – is putting women firmly in the spotlight this year with a new initiative: See It Be It.
The innovative programme has been set up to redress the under-representation of women in creative
director roles around the world. We all know talented women heading up creativity at major agencies but, even in 2014, this is firmly the exception rather than the rule.
Damning statistics
When you take a long, hard look at the statistics, they make shocking reading. Analysis carried out by Cannes Lions found that women in creative roles under the age of 28 make up 15 per cent of festival delegates, while those over the age of 28 make up just 4 per cent – a figure that closely matches the statistic that just 3 per cent of creative directors worldwide are female.
'It is heartening that 30 per cent of jury members are women this year'
While these figures may leave women wanting to re-chain themselves to the nearest oven, it is
heartening that 30 per cent of jury members are women this year, which represents a rise of 10 per cent over the 2013 figure.
See It Be It is a programme that aims to further the careers of women in creativity, encouraging them to stay in the industry and step up to senior roles at the same rate as men. Across three days, 12 women will take part in an inspirational and educational initiative during Cannes Lions. The agenda will include rare guided access to the jury rooms, privileged meet-and-greets with VIP speakers, exclusive sessions with specially selected speakers from the main content programme, a dedicated session by the Berlin School of Creative Leadership and a mentorship event supported by SheSays.
One of the highlights will be the SheSays panel discussion on 15 June titled "Why 80% of your advertising budget is currently being wasted". The event will feature speakers driving change, such as the founder of The 3% Conference, Kat Gordon, and the Havas Worldwide London chief executive, Russ Lidstone.
Positive steps
As a Cannes Lions representative for the Netherlands, along with my rep partner Leendert Mulder, I am delighted to see such positive steps taken by one of the most powerful forces in the industry.
As the Cannes Lions director of brand strategy, Senta Slingerland, says: "For years, we have been observing the gender imbalance in the industry, and we knew that now is the time to actually do something to redress this rather than talk about it. We want agencies to really think about the women they have in their networks and what they can do to keep and grow them."
It goes without saying that this is not just something that is good for women – it's good for all of us. When you consider that more than 80 per cent of purchasing decisions are made by women, it is a no-brainer that marketers are increasingly demanding more female creative talent to work on their brands. And, if this can't be found at agencies, brands are no longer shy of hiring female talent in-house.
If communications truly is the oldest industry in the world, then I am hopeful that steps such as this, taken by great men and women all over the world, will give it a future that is fair to all of us, at every stage of our careers. In the words of the Facebook chief operating officer, Sheryl Sandberg: "We need to raise the ceiling and the floor."


---
Kerrie Finch is the founder and chief executive of FinchFactor