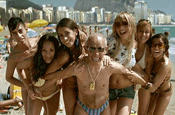 The review, which covers media across Canon's range of photography and computer products, has been instigated by Canon Europe's Amsterdam headquarters ahead of a planned brand relaunch in early 2009.

Mediaedge:cia is the incumbent in the majority of markets and is expected to repitch against other networks for the business.

In the UK, Canon's £10 million media planning and buying is handled by MEC's sister WPP agency BJK&E.

Billetts is working with Canon on co-ordinating the review.

A Canon spokeswoman confirmed the review and said it was taking place because Canon wants to extend its media activity beyond a focus on Western Europe to cover the EMEA region.

The media review follows Canon's appointment of The Brand Union to work on a more distinct positioning for the brand in a crowded digital equipment market.

Creative, which is handled by CDP London, is not affected by the media review.

A key part of Canon's advertising and media strategy has been its involvement as a sponsor of European football.

It was one of the main sponsors of Uefa Euro 2008 and has an association with football that goes back 30 years.

In addition to using traditional media, Canon has increasingly turned towards online activity in a bid to drive sales of its products.

In May, it appointed Agency.com with a brief to expand the Canon brand across the web, a move that brought an end to its year-long relationship with LBi.

Canon's £10 million UK media spend is skewed towards its photographic products, which were supported with £6 million in advertising during 2007.