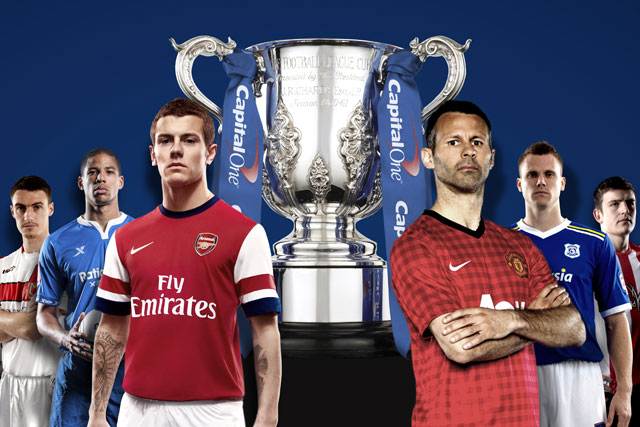 Woodburn, who has been Capital One's chief marketing officer since last year, told Marketing that following yesterday's confirmation of our story tipping the deal: "Opportunity is something we want to stand for strongly as a brand."
The credit card company strives to make high-end products more available to the broader market, he said.
Woodburn said: "We will try and find a way of responsibly giving credit cards to people who might not otherwise get them or might not otherwise get them on such favourable terms. We are trying to give our customers opportunities they wouldn't otherwise have and that ties in really strongly with the trophy.
Woodburn, a Hereford fan, argued that the cup delivered more opportunities than the FA Cup for smaller sides to play bigger teams.
He said: "You only have to look at this year's finals. Cardiff – Liverpool [in the Carling Cup] versus Liverpool – Chelsea [in the FA Cup]. The League clubs have a real chance against the Premiership big boys.
"And I think similarly, the whole history the competition has of players getting their first opportunities. There's a great statistic, which I hope is true because it's been told to me a couple of times but I haven't independently verified it, that 70% of Premier League players got their debut in a then Carling, now Capital One Cup, match."
He added: "The other key resonance for me is around authenticity. The Capital One Cup and the Football League in general is a lot about authenticity of both teams and fans. That authenticity is something we are striving for as well. We're a very authentic organisation, we really try to deliver and want that to come across."
National sponsorship is new territory for Capital One, which started looking at ways of "breathing new life into the brand" in the middle of last year after Woodburn took up the role. It sponsored Nottingham Forest FC, its local club, between 2004 and 2009.
He admitted: "Historically, we'd had a certain amount of name awareness, but not particularly standing for anything. As we went through the recession, we pulled back quite heavily on marketing as many others did.
Having considered creating "something in the comedy or fashion or music space", Woodburn was attracted to the football competition's national reach after it emerged Carling was bringing its association to an end after 14 years.
"One of the things that stood out for us is it's very rare to have a true title sponsorship opportunity," he said. "There's not much else as closely linked with the sponsor's name as the League Cup has historically been."
Asked what he was planning to do to help the brand displace the cup's link with Carling in the popular imagination, Woodburn said he did not think there was a silver bullet.
He said: "I wish there was a simple answer like run a few 30-second slots and you're done, but I think most of it is the legwork of making sure the adoption among journalists, managers and players is good."
The brand has less than three months before the competition starts, which Woodford said, was "pretty late to be signing a deal of this magnitude – the overall campaign theme that we're developing is in the early stages".
There will be a strong digital focus to activity backing the sponsorship, as befits the credit card provider's largely online marketing approach.
Woodburn said: "We're definitely hoping for straight name awareness from the title sponsorship. It's not a direct customer acquisition-focused effort.
"We're looking to make this a strongly digital and social media app-based sponsorship, so what we are looking to do is to build as much engagement as we can using the assets that we gain through the competition."
The deal was negotiated with the Football League by SMG Sports, part of Capital One's media agency Starcom with Sports Revolution. Activation has been entrusted to sports sponsorship specialist Synergy.
Follow Daniel Farey-Jones on Twitter @danfareyjones