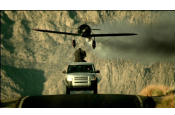 The agency has been briefed to create a series of campaigns, spanning both online and offline, but it does not affect Land Rover's relationship with direct shop Wunderman. Work will include direct and email activity and point-of-sale material.
The promotional work will be created centrally and then adapted for overseas markets, including Japan, South Africa and the US, by local agencies.
Earlier this year, Land Rover shifted its UK direct account from Craik Jones Watson Mitchell Voelkel to Wunderman, following a competitive review process. Land Rover was a founding client of Craik Jones, which had handled its direct business for 15 years.