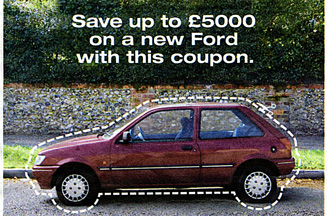 Following the roll-out of similar schemes across Europe, drivers will receive a grant of up £2,000 for the purchase of a new car, if they trade in a vehicle at least 10 years old. The £300m scheme launches next month.
To drum up awareness among consumers, car marques such as Ford, BMW, Citroen and Volvo have responded with tactical press ads to attract potential new car buyers.
The Ford ad shows an old Fiesta model with the line 'Save up to £5,000 on a new Ford with this coupon', before directing readers towards a dedicated microsite, www.ford.co.uk/scrappageincentive.
BMW have produced a more detailed campaign, which reminds consumers that only £1,000 of the grant comes directly from the Government and the other remaining funds from the manufacturers themselves.
Citroen is advertising the fact that from today it is offering its own £2,000 scrappage allowance, ahead of the launch of the Government scheme. It uses the tagline 'You're late Darling... our £2,000 scrappage scheme has already started'.
Swedish marque Volvo, however, plays on the environmental benefits of the incentive. The ad states 'Rewarding drivers for buying a greener car? We've been doing it since 1927'.