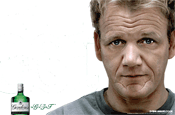 The agency, which won for its "Gordon's & Gordon" activity on Diageo's Gordon's Gin brand, also triumphed in the Best Public Sector category for its "Don't drink and drive" activity for the Department for Transport.

MediaCom was the most awarded agency, after landing three awards for Volkswagen, Aquafresh and a joint winner for Masterfoods.

ZenithOptimedia won in the Best Total Communications category for its "Ariel turn to 30" campaign for Procter & Gamble and in the Best IT category for O2.

The winning sales teams were Telegraph Create for Best Cross-Media Team, The Mail on Sunday for Best Print, CBS Outdoor for Best Outdoor, CBS Outdoor's Alive for Best Digital, Bauer Media for Best Radio and Viacom Brand Solutions for Best TV.

Stephen Allan, the worldwide chief executive of Media-Com, was named Media Achiever of the Year.

For a full list of winners, visit www.campaignmediaawards.com.