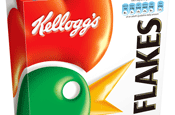 The two media agencies went head-to-head on the pitch, which was called earlier this year.

Mindshare had held the account, worth an estimated €300 million for the past eight years.

Greg Economos, the vice-president, marketing and innovation, Kellogg Europe, said: "It was a difficult decision, and we believe Carat is offering us a strong platform combining efficiencies, service and effectiveness to support our business strategy and to drive consumer engagement with our brands."

Carat already had the Kellogg accounts covering France, Germany and the nordic countries.

He said that Carat would be fully in place by March.