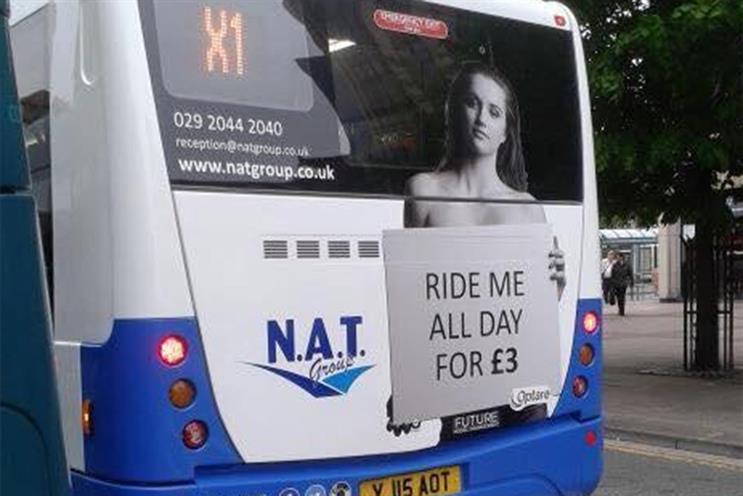 New Adventure Travel was promoting a new route, which for the sake of gender equality also included an image of a topless man and the "ride me" slogan.
But Twitter users took to the social network to express their disgust, with frequent uses of the #EverydaySexism hashtag. Even Welsh singer Charlotte Church joined the outcry, posting on Twitter that "THIS IS ABHORRENT" and calling on New Adventure Travel to remove the ads, which it has since done.
Hey @NAT_Group THIS IS ABHORRENT! You should remove these hugely offensive ads ASAP pic.twitter.com/EphM8N8xyI" Please complain and retweet.

— Charlotte Church (@charlottechurch) May 11, 2015
Someone even doctored the image, replacing the model with a picture of Diane Abbott:
@nonjob1 @NAT_Group @charlottechurch @EverydaySexism I'm not getting on this bus.. pic.twitter.com/WmhepGk50u

— Candygram for Mongo (@Phoenixarised) May 11, 2015
New Adventure Travel, which runs bus services across Wales, was running the ads to promote a new fleet of vehicles providing a cross-Cardiff service for £3. Following the Twitter storm, it said the ads would be withdrawn.
The company said it was trying to attract a "younger generation" with the ads and "therefore developed an internal advertising campaign featuring males and females to hold boards to promote the cost of our daily tickets".
It added: "The slogan of 'ride me all day for £3', whilst being a little tongue in cheek, was in no way intended to cause offence to either men or women and, if the advert has done so then we apologise unreservedly. There has certainly been no intention to objectify either men or women.
"Given the volume of negativity received we have decided to remove the pictures from the back of the buses within the next 24 hours."