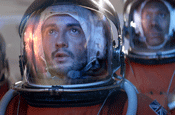 The ads, by Beattie McGuinness Bungay, were accompanied by the strapline "You know who your mates are".

There were three complaints against the spots, claiming they implied alcohol is integral to successful socialising and belonging to a social group.

The first ad showed a group of male astronauts which refuses to enter a mysterious alien entity because one of the group is not wearing the right shoes.

The second showed the same group of men braving the Arctic cold to celebrate one of their birthdays.

But the ASA rejected the complaints against the ad.

It said: "We noted the astronauts and explorers depicted were well-mannered and softly spoken and did not appear particularly brave, tough or daring.".