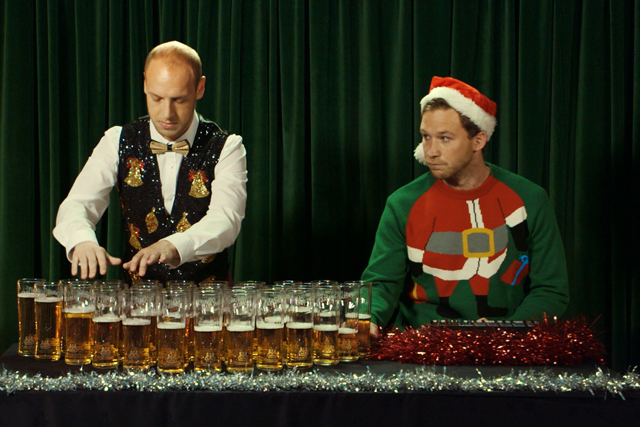 The work features the regular characters Dylan and Jon playing 'Silent Night' on beer glasses and a mini-keyboard. While Jon meticulously plays the tune using Carling pint glasses containing different amounts of lager, Dylan is less interested and ruins the final note by drinking from one of the glasses.
As with other ads in the series, created by Creature, the performance prompts the strapline, "It's good, but it's not quite Carling."
At the end of the ad, viewers are invited to personalise it for a friend. The personalised ad shows the name of the friend at the beginning and the sender's at the end.
Jeremy Gibson, Carling brand director, said: "Christmas ads are often a hot topic of conversations around this time of year, we wanted to make sure that we celebrated the festive season in a way everyone could relate to, and of course, have a laugh about. We believe with its understated approach, this new ad captures the British Christmas spirit perfectly."
The ad is the third in a series of online films designed to provide an amusing take on seasonal or topical events.
The first film, 'Decorators', which celebrated the birth of Prince George, was viewed more than 633,000 times, while the second film, 'Voodoo' marked Halloween and has had nearly 500,000 views.