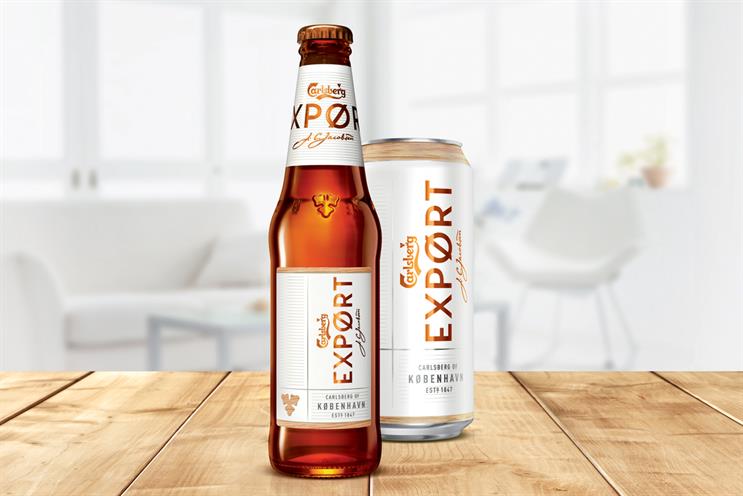 The brewer's vice-president for marketing, Liam Newton, said that while the brand was famous for its entertaining ads and memorable slogan, consumers often did not know much else about it.
The new look for Export, created by Carlsberg's existing design agency Taxi Studio, is designed to improve its quality perceptions and reinforce its Danish identity.
"It's about trying to recruit a new set of consumers into the Carlsberg brand," Newton said. "For some it isn't in the consideration set. They don't see it as a quality beer. They don't see much beyond the above-the-line [advertising]."
Newton added that, while Export performed better than its main rivals in blind taste tests – a fact it made use of in an ad campaign last year – it received lower scores when served in a branded glass because it was not perceived as quality.
The design, which appears across cans, bottles, cases and draft beer founts, uses a design reminiscent of a Nordic cross – the shape used in the flags of Denmark and the other Nordic countries.
It uses a new, cleaner font, while the word Export is spelled with an Ø, a distinctive feature of the Danish alphabet. The signature of founder JC Jacobsen is now more prominent, and the packaging also features the words "Carlsberg of København", using the Danish spelling of Copenhagen.
It was a good time, Newton said, for Carlsberg to make more of its Danish roots, thanks to widespread interest in Scandinavian culture and lifestyle.
"There's this whole movement around Hygge; you almost can't open a newspaper these days without another article about what it is about the Danish way of life that's so appealing," he said.
Further steps
The new look will roll out from February and is the first step towards "revitalising" the Carlsberg brand, which has suffered in recent years as drinkers have switched to craft beer brands.
According to Kantar data, over the last five years the number of people drinking premium lager (including Carlsberg Export) fell by 430,000, while the number drinking standard lager (including regular Carlsberg) fell by more than one million.
But while rival brands such as Carling, Foster's and Stella Artois have also seen sales fall, Carlsberg has had a particularly harrowing year, thanks to being ditched by Tesco, the UK's biggest supermarket, last autumn.
Nielsen data showed that Carlberg's supermarket and off licence sales fell by a fifth in the year to April, from £348m to £279m.
The revamp will be supported by a £15m campaign, with creative from Carlsberg's agency Fold7, which Newton said would include an increased level of experiential activity. The campaign will also explore aspects of the brand's Danish heritage.
Another factor the brewer wants to grow awareness of is Carlsberg's role in beer history: it was the first brewer to produce a strain of purified brewer's yeast, which was once known as "Saccharomyces Carlsbergensis".