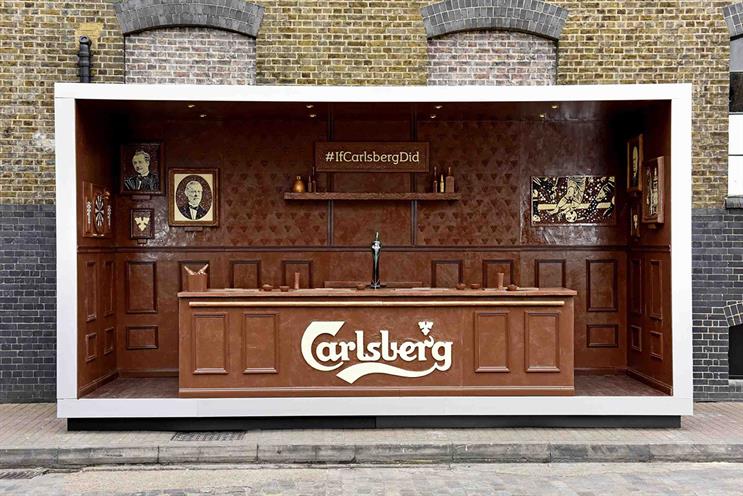 The idea, conceived by Fold7 and Carlsberg's newsroom team, shows the pop-up appearing as a giant bar of chocolate mounted onto the wall of the Old Truman Brewery in Shoreditch today.
At 12pm Carlsberg unwrapped the foil to reveal a bar measuring three metres deep, five metres wide and two metres high. It is made up of nearly half a tonne of chocolate.
It includes features of a traditional bar including a dartboard, bar stools and a TV showcasing one of England's greatest World Cup moments, all made out of chocolate.
The bar will be serving a half-pint of Carlsberg in a branded chocolate glass.
Blackjack Promotions and Talon Outdoor handled the build of the bar, and OMD UK worked on a paid media campaign. The Marketing Store handled social media activity.
Dharmesh Rana, the senior brand manager at Carlsberg UK, said: "Easter is a big beer-drinking occasion for our consumers and this year, we wanted to do something a bit different.
"We knew that the British public love beer and chocolate, so we're delighted to bring them together to create probably the best bar there could be.
"We pride ourselves on turning the ordinary into the extraordinary, and by creating a world-first chocolate bar, we feel that we've done just that."