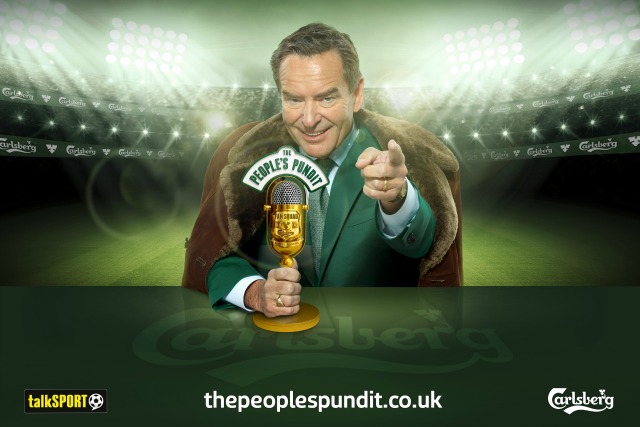 The campaign will be launched on-air by Sky's Gilette Soccer Saturday presenter Jeff Stelling on 26 January and run on-air at TalkSport, at point of sale in-pub and Premier League perimeter board advertising for five months.
TMS, appointed to consolidate below-the-line activity in 2013, developed creative and will also handle the experiential portion of the campaign.
TMS were responsible for Carlberg's recent Fan Squad digital campaign to find the biggest football fans in the UK. Media is handled by OMD.
Some larger venues will have branded recording booths, allowing consumers to film themselves against a branded backdrop.
Customer experience work is by More Creative, trade ads and promotion by The Big Fixture, while POS design and print by Sterland Paterson Group.
Throughout the campaign, TalkSport presenters will give on-air updates on the progress of the competition, with ads running on TalkSport.com and Sport magazine.
Presenter Jeff Stelling will feature in a PR drive, Clifford French handling consumer and Fleet Street Communications trade PR.
Paul Morris, Carlsberg brand and sponsorship activation manager said: "Every football fan likes to think of themselves as a pundit – talking about the beautiful game is something of a sport in itself.
"Through this incredible competition, we're giving football fans the chance to put their money where their mouth is and show they have what it takes to provide punditry alongside the professionals," he said.
Entrants have to be 18 or older, and can upload their efforts to Facebook, YouTube or Vimeo, before sharing the link at www.ThePeoplesPundit.co.uk, designed by Zone Design.
Alternatively, in February a People's Pundit vehicle will tour Premier League grounds and pubs to record potential pundits.
30 semi-finalists will be selected to attend one of five regional events in March, where they will complete two punditry challenges in front of a pub audience.
Winners of these regional events will go through to the final, to take place at a TalkSport bootcamp where the overall winner will be decided.
Liam Fisher, TalkSport programme director said: "TalkSport is renowned for bringing the best football commentary, news, updates and stories to listeners 24 hours a day thanks to our expert team of presenters and reporters.
"I'm thrilled to be teaming up with Carlsberg to bring the opportunity to a fan to join our team and prove their commentating skills to become The People's Pundit."