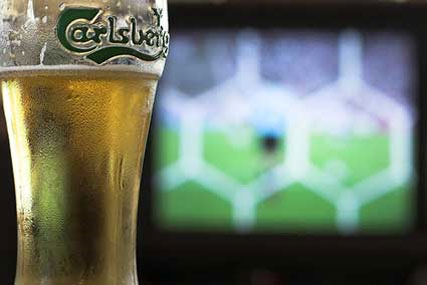 Carlsberg and the Premier League have agreed a three-year deal for Carlsberg to be the "Official Beer Partner" of the Barclays Premier League. The arrangement will run from the 2013/14 season to the end of 2015/16.
The Premier League has been without an official beer partner since 2010 when its three-year deal with Budweiser ended.
Tom Moradpour, vice-president of the Carlsberg brand, said: "At a time when we are fully committed to growing the Carlsberg brand, it is fantastic to be associated with such an iconic football property as the Premier League.
Carlsberg has a long-standing relationship with football through international sponsorships of national teams and international tournaments.
In the 1970s, Carlsberg was the first commercial sponsor of the Danish national teams and national league.
In club football, Carlsberg has partnerships with a number of clubs, including Liverpool, Arsenal and Tottenham Hotspur.
Carlsberg has also sponsored the 1990 World Cup and Champions League in 2003 and 2004.
In 2011, Carlsberg signed a deal with The Football Association to become the official beer of the England football team.
Follow @JohnReynolds10