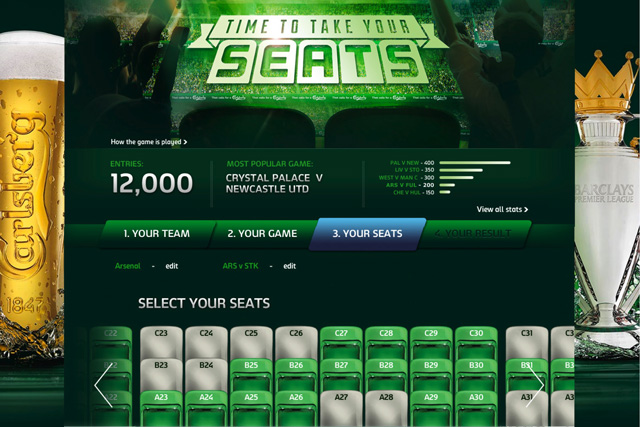 Embarking on its first season as official beer of the top-flight football league, the lager brand unveiled timetotakeyourseats.co.uk at the start of the new season.
Created by The Marketing Store, the site is powered by live real-time data and allows users to monitor which games and teams are proving the most popular with fans. As there is a better chance of winning tickets for the less popular games, this live data feed helps fans make their choices.
The site also has a share mechanic on the site, allowing users to share their activity via any online platform. Fans who share a link with a friend will be rewarded with an additional entry to the prize draw.
The website is the key component of a campaign devised by The Marketing Store called 'Time To Take Your Seats'. Running over ten weeks, the campaign will span point of sale in on and off-trade venues and national print. LED perimeter advertising is also planned for selected matches.
As well as the weekly prize draw for each match, the lager brand will give away exclusive Carlsberg and Barclays Premier League merchandise.