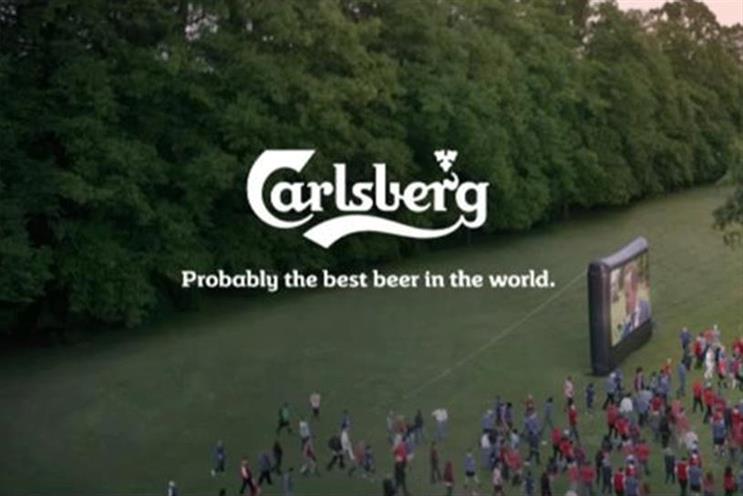 Carlsberg racked up retail sales of £278.7m in the year to 25 April, according to data from Nielsen in The Grocer's "Britain's biggest alcohol brands" report – down £69.4m on the previous year.
With Carlsberg the official beer of Euro 2016, industry watchers had speculated that Tesco would be likely to reintroduce it in the run up to the tournament – but aside from a single pack size, it is still unavailable from the retailer's website.
Carlsberg will nonetheless hope that its colourful array of sponsorship activations around the event have been enough to revive sales of the flagging brand. These included stunts like sending ex-footballer Chris Kamara, disguised as an old man, onto the Tube to surprise passengers and reward those who gave up their seat with free tickets for matches.
Carlsberg is not the only one to struggle as most of the major lager brands, including Stella Artois, Carling and Foster's, have seen sales fall.
Craft beer brands, in contrast, are booming – the biggest brand in craft, Brewdog, has upped its sales by 147%, thanks to all of the major supermarkets now stocking its flagship beer, Punk IPA. Other craft beers to see a big leap in sales include US brands Sierra Nevada and Brooklyn Brewery, as well as Scotland's William Bros.
The momentum of craft beer has led major brewers to seek out acquisitions. Last year saw SABMiller scoop up London' Meantime Brewery, which is now set to be sold again to Japan's Asahi Group, while AB InBev bought Camden Town Brewery. Heineken also bought a 50% stake in leading Californian craft brewery Lagunitas.
American spirit
Jack Daniel's has become Britain's bestselling whiskey (or whisky, which usually denotes Scotch), after it grew sales by 9.3% to £221.6m, leapfrogging the top selling Scotch, Grouse. Jack Daniel's is now the second biggest-selling spirit brand in the UK after Smirnoff.
Crispin Stephens, head of commercial planning and activation for JD at brand owner Bacardi Brown-Forman Brands, said the growing demand for the bourbon reflected a "broader interest in Americana," adding: "Positive cultural associations with America are coming through in casual dining trends."
But the consumer thirst for craft brands is also shaping spirits, with big sales increases for the top craft brands, including Hendrick's, Sipsmith, Opihr and Caorunn gins, Kraken rum, and Woodford Reserve and Bulleit bourbons.
However, across the 100 brands featured in the report, wine has had the stronger year overall: the 38 wine brands on the list saw sales grow 3.6% to £2.55bn.
This is thanks to big sales boosts from the likes of Barefoot, Yellow Tail and Casillero del Diablo, the latter of which has driven sales through its partnership with Sky Movies and "Wine legend" TV campaign from Chilean agency DAf.