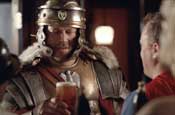 The company, which is owned by Carlsberg, is in the process of talking to a number of unnamed Northern agencies about the business. Saatchi & Saatchi, will not repitch.
Tetley is reviewing the business in an attempt to re-build its brand by focussing its commercial activity back into its Northern heartland.
Saatchi & Saatchi has worked on the account since it won the business in XXX, following a pitch against undisclosed agencies.
The last work created by the agency appeared in February 2006 and ran under the strapline "don't do things by halves". The work featured a man, dressed as a Roman Centurion, turning up at a fancy dress party at his local pub with a full sized army complete with horses and catapults.
OMD, the company's media agency, is unaffected by the review.
The on-trade bitter market is worth more than £2.9 billion, and more than 1.4 billion pints are sold in pubs and bars every year. Tetley's is the second biggest brand in the sector and sells 56.3 million pints a year more than its closest competitor, Worthington's.
Last year, the company launched two further product variations; Tetley's Extra Cold, a cold beer that should be served between three and four centigrade and Tetley's Imperial, a 4.3 per cent premium cask ale.
As well as investing in advertising the company also sponsors rugby union and league clubs and is headline sponsor of the rugby union county championship.