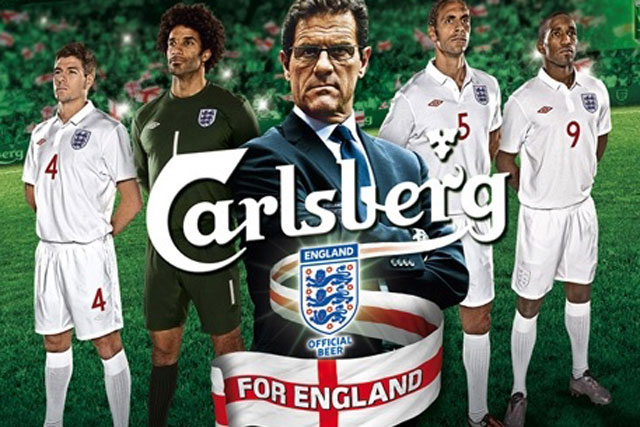 The deal runs until 2014, improving Carlsberg's sponsorship rights, and comes ahead of the FA's official unveiling tomorrow of rival Budweiser as its new FA Cup sponsor.
It is thought that Carlsberg was angered by the FA's decision to bring in Budweiser, arguing it would breach some of its sponsorships rights.
Carlsberg's commercial links with football date back to 1992, when it signed up as Liverpool's shirt sponsor. It has subsequently sponsored major sporting events.
The new deal between Carlsberg and The FA, valued at around £2m by industry figures, gives the lager brand increased rights around pitch-side signage during international matches.
In addition, Carlsberg will also gain greater rights around the use of player imagery and an entitlement to use the England team rights worldwide.
Peter Daire, head of sponsorship at the FA, said: "Carlsberg has been a long-standing and much-valued partner of the FA over the past 16 years.
"This new deal on rights around the England senior men's team will be a platform to continue this long association well into the future."
Marketing understands the pouring rights at Wembley stadium will be resolved by making Carlsberg available at England games and Budweiser at FA Cup matches.
Carlsberg's secondary sponsorship deal with the FA Cup is understood to have been downgraded to a supplier agreement in the past year.
Isaac Sheps, chief executive at Carlsberg UK, said: "We know that when we activate around our England sponsorship, we see a great boost to sales and brand awareness.

"It is a great partnership and one that we hope will extend beyond the 2014 World Cup."
The announcement comes just a day after it emerged that the FA was looking to use its new deal with Anheuser–Busch InBev's Budweiser, thought to be worth around £8m, to promote the FA Cup globally, specifically to push the brand in the US, China and the Middle East.
Budweiser is to replace E.ON, which resigned its sponsorship of the FA CUP in 2009.