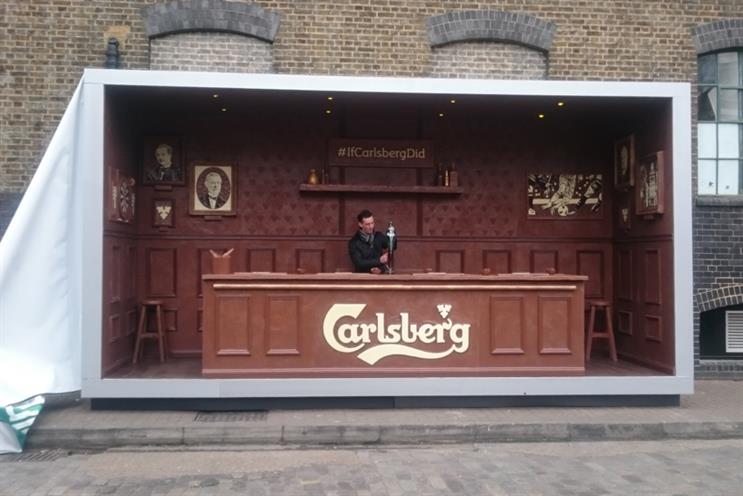 But while fans of the beautiful game are a crucial audience for the beer, senior brand manager Dharmesh Rana sees the value in speaking to a wider audience - and he says that's where Carlsberg's experiential stunts come in.
The latest of these, If Carlsberg Did Chocolate Bars, popped up this week at the Old Truman Brewery in London, the venue where the brand constructed a beer-dispensing billboard one year ago. The new installation consisted of a life-size bar (in the pub sense) constructed from half a tonne of chocolate, and featuring a Carlsberg tap from which visitors were invited to pour themselves a half pint.
Rana says that this kind of activity is able to reach consumers that a TV campaign - which can only communicate with viewers on one level - will not.
Chocolate today, gone tomorrow
"The nature of doing these types of activities is we're talking to an audience that you can see here is quite unisex, it has quite broad appeal," he says.
"We're talking about chocolate today, but we could be doing something completely different tomorrow, so it allows us to talk to a much bigger audience overall, rather than always speaking to a bespoke audience."
Last year's billboard activity attracted 1,400 people, and Rana expects a similar number at the chocolate bar. While the figures are small compared to those seeing traditional advertising, he believes there is great value in giving consumers the chance to experience the brand interactively.
In contrast, Rana says that traditional advertising such as TV can be "a very flat process, and not something you're going to drive a lot of engagement from. And it will always talk about one insight, or it'll be on one theme - so if it's football, it's only football and it's only relevant to a football audience".
More to Carlsberg than people think
One of the most daunting tasks facing alcohol brands is recruiting new consumers, and for Rana this is among the best arguments for investing in experiential. "For what we're trying to achieve, to embrace younger consumers coming into the category - fundamentally, they don't use traditional channels," he says. "We need to find ways of engaging with those - they're the future blood of the category."
He also recognises the challenge posed by the craft movement to established brands - perhaps especially pertinent here in Shoreditch, the spiritual home of the hipster. "We need to get people to reappraise mainstream brands in totality," says Rana. "Partly that's about getting people to realise there is more to Carlsberg than they probably think there is. It's a bigger category challenge, and both us and our competitors have a lot of work to do quite honestly."