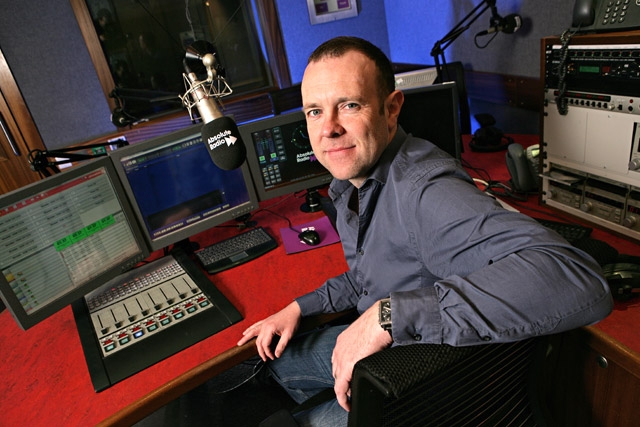 On 29 September, the station formerly known as Virgin Radio will be three years old, but looming large over any anniversary celebrations are two targets that have been made public.
The most pressing of which must be the stated aim of Absolute's chief executive, Donnach O'Driscoll, to
balance the books for parent TIML Radio
, a wholly owned subsidiary of the Times of India publisher.
The pop and rock music station had the misfortunate of entering the world in the same month Lehman Brothers collapsed and the global economy went into meltdown. Pre-tax losses of £2.7m in 2008 slipped to £4.3m in recession-ravaged 2009. Official figures for 2010 will not be available until the fourth quarter but are expected to remain in the red, despite a marked recovery.
Enter 40-year-old Carolan, drafted in as advertising director last September, he is responsible for Absolute's on-air agency commercial activities and media agency relationships. The move has reunited him with Absolute's commercial director Chris Goldson, who he first worked with 15 years ago at BBC Worldwide. Together they carry the station's hopes of profitability.
"There's a reason why I came back to radio," says Carolan. "I've worked for five radio companies, and this is the most I've ever been able to do from a commercial perspective."
By his own admission, his arrival in Golden Square "feels very much like a home-coming", having worked at Virgin Radio for four years, however it's his more recent experience heading up agency and client sales at Microsoft that sets him apart.
Carolan believes the industry's emerging digital platform capabilities are key to increasing listening and deeper engagement going forward. Cited among the digital opportunities is the arrival of the industry's Radioplayer next week (31 March).
Backed by the BBC and commercial radio, it will host around 150 stations at launch, with many more waiting in the wings. The player will allow users to listen, search and archive stations like never before, and offer on-demand content new branding and advertising opportunities within the player itself.
"We'll be able to serve you an ad on the banner of the player, at the same time as the same commercial," he explains. "Contextual, visual advertising then becomes real, and also we can then track behaviour through IP. That becomes really exciting."
Initial response from agencies is said to have been "fantastic", and a "major car manufacturer" and "one of the world's biggest advertisers" are reported to be interested in running trials with Absolute from the outset.
The opportunities presented by the Radioplayer fit into a favoured theme of Carolan's, to harness digital platforms to better understand listeners and their behaviour. Absolute has also launched mobile phone apps for Apple iPhone, Blackberry, Windows Phone 7, Android and Nokia, said to have attracted 300,000 active users in February.
"It's about taking web metrics, the targeting and tracking capabilities that online does so well, and applying that to a broadcast medium, through the use of a digital platform," he says.
"[Martin] Sorrell and all the great media commentators talk about data, data, data. Well this is it for us. It's real-time, it's live, we'll overlay some targeting into some exciting conversations we're having about how we get the targeting… all of a sudden you're creating a brand new model."
Absolute has aggressively budgeted for "double-digit revenue growth in 2011". The target belies the station's ambition, especially in a market where display revenues are expected to rise just 2.3%, according to the Advertising Association.
The 'home of the no repeat guarantee' is banking on growth from outside traditional spot advertising, like its digital innovations and sponsorship and events. It's an area the station has long excelled in and accounts for around 40% of total revenues, twice the size of the market average.
When it comes to brand integration "Absolute is the best out there", says UM's digital specialist Amanda Barrett, who works on campaigns for Microsoft among others. "They approach things in a really open and collaborative way. They know their audience really well and know how to deliver quality, commercial content that engages."
Proving the value of that engagement should also form the new conversation, as far as the ad director is concerned. He talks excitedly about upcoming research from the Radio Advertising Bureau called the Emotional Multiplier, which will examine how different media affects people's moods.
"If you've got a medium that makes people happier, does that make them more receptive to commercial messages?" he asks. "If you're in a bad mood are you going to buy a car? No, although actually you might want to buy a holiday. There has to be something in that."
To help develop its commercial possibilities, Absolute is in the process of hiring a new head of digital sales. However, digital expectations should be tempered by Carolan's own admission that IP listening at present remains "on a fairly modest scale", although "growing rapidly".
Howard Bareham, investment director at Mindshare, notes: "Absolute is good at the digital stuff and have been innovators, but they are relatively small numbers that are hard to monetise. They continue to struggle with its main offering."
Which brings us to the other target currently hanging around Absolute's neck for 2011. The station's pre-launch ambition, sold into TIML, was to reach three million listeners per week in the UK.
In the last Rajar report, Absolute Radio's core station, available nationally on AM, DAB, online and through digital TV, as well as on FM in London, had a weekly audience of just 1.38 million in the fourth quarter of 2010. It represented an 8% drop year-on-year and 17% quarter-on-quarter.
The figures were especially disappointing following a promising lift in the third quarter. Senior management have to be worried, including TIML's UK-based representative, Sharath Chandra.
Carolan bats away any suggestion the pressure's on, but admits O'Driscoll's pre-launch listener ambition still appears "a very big ask" nearly three years later. He is confident the station can surpass the 2.4m figure achieved by Virgin Radio before the buyout, and adds that an audience in excess of 2.6m should be possible for 2011.
Audience growth is now expected from the first quarter onwards. Carolan simply says: "First week in May [next Rajar report], we are already looking forward to it."
He adds: "Times of India are incredibly supportive of the kind of investments we want to make. I don't think the product has ever sounded better. We have the talent and we've just invested in our biggest-ever marketing campaign [
Faces for radio
]. We're getting serious about it."
Time will tell whether Absolute Radio can turn being a digital pioneer into a profitable, sizeable business. As Barrett says: "There's been a lot of good will towards Absolute, and the commercial team do a fantastic job. But ultimately the goal of any media platform has to be about growing and monetising their audience."
Carolan on…RAB
is producing some fabulous work, but I don't think it's getting the credit it deserves. Radio needs to get a louder voice in planners' minds. We're got some great stories, we just need to get people to understand it.
Relaxing of Broadcasting Code
is not the self-regulation we pushed for but it's still a good news story for radio. Television can now do what we could always do and we're able to do more [commercially] than ever. I don't think enough has been made of the opportunities yet.
Chris Maples
, the new managing director of Spotify who I worked with at Microsoft is a very good operator. I think it's a good hire for them as they explore an interesting new model. I think Spotify has opened the industry's eyes about how radio and the internet can work together.
Bad radio ads
: I still think it can be an issue, the radio industry has tried hard to improve the quality of ads by rewarding great creative through Ariel awards. It works to a degree but it's not been the whole answer. We have to get creative agencies excited about radio.
Personal Family:
Married to Jane and lives with two cats in Crouch End
Media:
The Evening Standard, The Guardian on Saturday for the Sport section, The Observer and Sunday Telegraph, 6Music, WACCOE.com (Leeds United site) and lots of books.
Mentor:
Fru Hazlitt