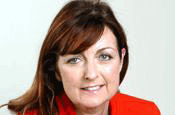 Her responsibilities will be handed over to Evelyn Webster, the managing director of IPC Connect, who will handle McDevitt's role in addition to her own.

McDevitt, who joined IPC in May 2005, is responsible for print and digital advertising plus market research activity.

She was previously chief executive of TV audience body Barb.

Sylvia Auton, the chief executive of IPC Media, said: "Caroline told me a while ago that she would like to start the new year seeking new challenges and I accepted her decision reluctantly."

McDevitt said that it was "the right time for me to pursue other business opportunities".