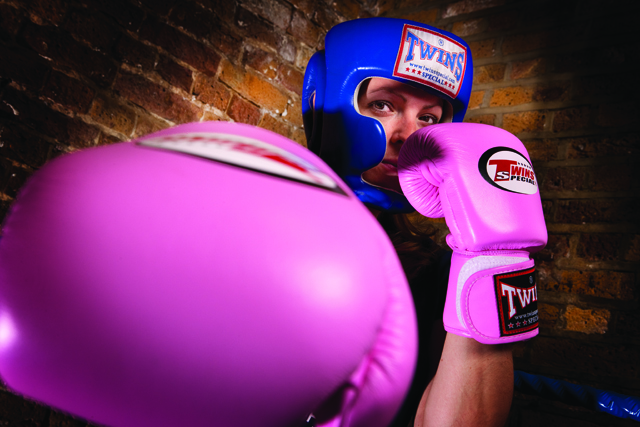 When did you start and what inspired you to take up amateur boxing?

I started amateur boxing at University in 1997. I was reading sports science and my main sport was hockey. I had gained quite a bit of weight travelling around Australia in my gap year and so went boxing to lose weight and get match fit again for hockey. I took to boxing like a duck to water and never went back to hockey! I became the social secretary of the boxing club in 1998 and then became the chairwomen in 1998. I was the main driving force in affiliating the Leeds Met boxing club to BUSA (now BUCS) in 1999.
Why do you do it and how does it make you feel?
Boxing is a great way to keep fit and also a great way of gaining exceptional muscle strength. It's a hard workout so if you are trying to lose weight it's a great sport to choose. I love all aspects of the sport and always feel great after a boxing workout.
How does boxing impact on your professional life?
It's not a sport for the faint hearted so it's taught me valuable lessons in determination and developed my already strong competitive nature. These are all skills that are imperative for sales.
What has been your greatest boxing achievement moment?
Affiliating The Leeds Met Boxing Club to BUSA in 1999 was a great achievement. It started a long legacy for a successful university boxing club.
What advice do you have for anyone looking to take up boxing professionally?
Start by getting fit and learning the techniques to a high level before you get in the ring. Getting in the ring too soon is the mistake many people make; some don't go back to boxing as a result because they get hit and it scares them off. Don't' run before you can walk. You don't have to get in the ring to enjoy boxing, sparring is only one aspect of the sport and it can be enjoyed in many ways, including just training and never sparring.
---
Caroline Troman is an ambassador for The Biggr Picture and will be judging the entries. She is head of DR Sales at Yahoo! UK

For more inspiration and to see more of our judges' Biggr Pictures visit our Flickr 'The Biggr Picture' gallery.