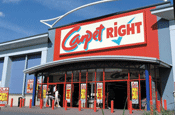 Engine, led by WCRS, will develop ideas to update the image of carpets. Independent agency Goodstuff will handle communications planning on the business.
The pitch process was handled by The Observatory and also involved Miles Calcraft Briginshaw Duffy and Leo Burnett.
Engine has developed a "virtual brand" to promote carpets and will produce a fully integrated campaign including advertising from WCRS, digital through Altogether and PR from Slice.
Carpet companies including Carpetright, Abdingdon Flooring and Balta Group are part of The Fifth Wall Group, which was launched last year to promote carpets against a backdrop of customer fears over dust allergies and the increasing popularity of other floor coverings.
Marcus Billman, the president of the UK campaign consortium for The Fifth Wall Group, said: "Engine and Goodstuff presented a campaign with some extremely exciting ideas which we're confident will do a great job of getting carpet back to the forefront of home decoration".
Robin Wight, the chairman of Engine, said: "This win demonstrates the strength of the Engine concept of delivering best in class agencies under one roof instead of just ad-centric offerings."