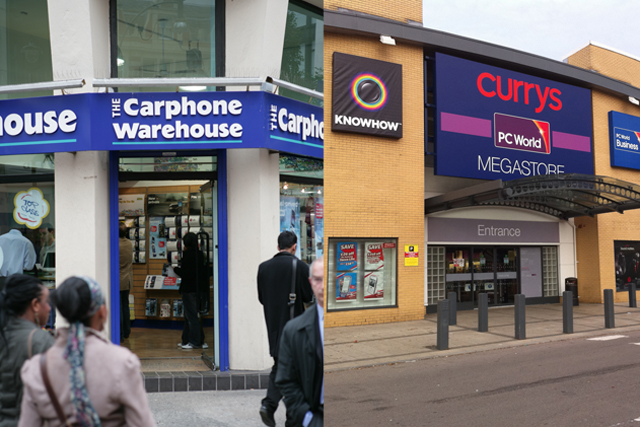 The merger, which was first mooted in February, joins together Europe's largest independent mobile retailer in Carphone Warehouse, and the continent's second-biggest electricals retailer in PC-World and Currys-owner Dixons.
Carphone Warehouse co-founder Charles Dunstone will become chairman of the new company, called Dixons Carphone, while Dixons chief executive Sebastian James will take on the equivalent role at the new group. The combined retailer will operate nearly 3,000 stores across Europe.
James said: "The ability to take what we have built in electrical retailing and add the profound expertise of Carphone Warehouse in connectivity, would make us a leading force in retailing for a connected world.
"Together, we can create a seamless experience for our customers that will enable technology to deliver what it promises – that is, to make their lives better."
Dixons today revealed strong annual results, with underlying sales up 3% and like for likes up 3% year on year. Group underlying pre-tax profit is expected to be at the "top end of market expectations", at £150m to £160m.
Kester Mann, principal analyst of operators at CCS Insight, said that the deal would provide "significant opportunities to both in terms of scale, cost-cutting and distribution".
He added: "We're about to see our digital lifestyle extending out of the living room into the rest of the home. Eventually, almost everything will be connected: ovens, toasters, cameras, washing machines, fridges, lights, alarm systems and so on.
"Many of these devices will be controlled by our smartphones and tablets. So a merger between a consumer electronics retail giant and one of the high street's leading mobile distributors is a logical and forward-thinking move for both companies."
Meanwhile, Chris Watson, head of communication, media and technology at law firm CMS, argued that the deal merged the world of static retail with that of mobile communication.
"Dixons' roots are in old, static goods technology and this merger is an example of the increasing ascendancy of mobile innovation," said Watson . "It would help if the name apparently chosen for the merged firm reflected this brave new world rather than the old."
Wil Rockall, a director in KPMG's cyber security team, commented on the ramifications of the deal for data.
He said: "Whilst today's news should mean consumers benefit from pooled expertise, some will also wonder whether the impact of bringing so many connected devices under one roof will mean data about the way they live their lives is more easily accessible and less easily forgotten.
"Either way, it'll be exciting to see what comes out of the plans and it'll certainly give people a different perspective on their fridge."