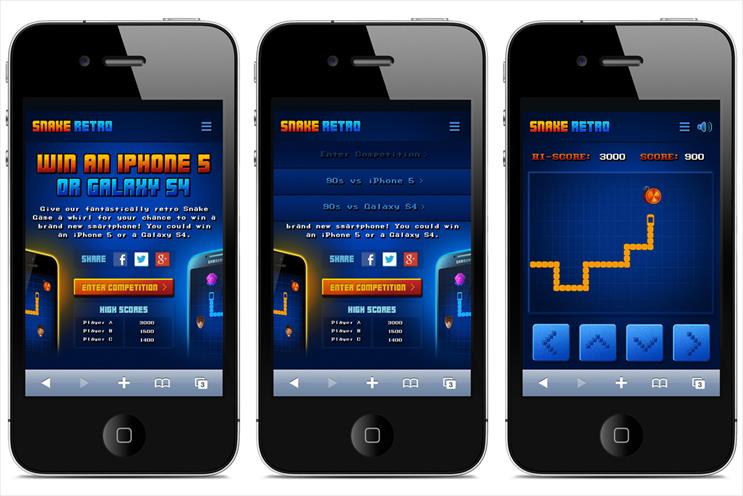 The game, created by digital agency Steak, represents a throw back to the 90s when the use of mobile phones first became widespread, and its launch coincides with the anniversary year of the very first cell phone.
Pop-culture references have been woven into the game as Easter eggs, and Steak hopes it should "raise a smile with people who remember the old heyday of Snake the game".
The game is web-based and will be available to play on desktops, smart phones, and tablets and is designed to encourage friends to compete with each other and share their scores via social media. Users will also have the chance to win either a Samsung Galaxy 4 or an iPhone 5 to see how far phone technology has come.
Robert Thomas, lead SEO manager at Carphone Warehouse, said that launching Snake was part of the company's 'Mobile Memories' campaign, which has previously included a Facebook app that allows users to look back at the phones in their time line.
He added: "It is part of a wider move to successfully deploy effective digital content through a campaign."
Ryan Foley, account director at Steak said the idea for the game was partly about making the brand heard in an increasingly noisy market.
He said: "As it becomes increasingly difficult to be heard in the already crowded online space, we need to create something shareable and engaging. By tapping into 90's nostalgia we have used an already tried and tested concept and brought it to life in the present day."