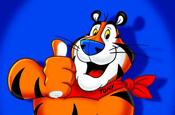 The consumer watchdog has called for a cartoon loophole to be closed in self-regulatory CAP and BCAP codes in order to tackle childhood obesity.

Out of 19 children's food company-owned cartoon characters, its research found that none of the characters promoted healthier foods.

It pointed to Tony the Tiger, Pom-Bear, Moo the Dairylea cow and Snap, Crackle and Pop as cartoon baddies.

Which? has called for the advertising codes to be strengthened significantly.

It described current CAP and BCAP codes as weak because they only restrict the use of third party licensed characters and do not cover promotional material.

It has urged the Government to provide clearer direction on marketing less healthy foods to children and has called on the Advertising Standards Authority to create a CAP advisory group with consumer representation.

However, an ASA spokesman said: "The Which? report is not saying anything new. The rules surrounding food and soft drink advertising to children were significantly tightened only last year following a review of all the evidence and extensive public consultation, including input from Which? .

"These robust new rules are amongst the toughest in the world."

But Clare Corbett, a Which? food campaigner, said: "Cartoons are great fun for kids. We definitely don't want to see the end of popular characters like Tony the Tiger and the Honey Monster, but we do want to see them promoting healthier products.

"If the industry fails to act, the Government must step in."

The new rules, revised in April 2007, are currently being evaluated. A full public consultation is planned for later this year.