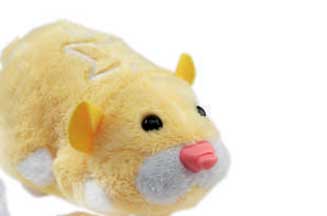 Jerry Healy Marketing Director of Character Options - the company behind the Go Go Pets range - says that sales of the little critters quickly exceeded expectations.
'Beginning in early August we had a robust plan to promote the range during the key pre-Christmas period' he says but as the products took off online and consumers awareness took off the strategy quickly shifted to meeting demand.
'We have been doing everything in our power to maximise the amount of stock that we can deliver and are working very closely with all our retailers to minimise the lead-time to market,' he says.
In so doing, we will prevent any disappointment for children as much as possible. This will include deliveries right to the last moment for Christmas but also further deliveries to meet the post Christmas demand.
On the retail side, the furry hamsters have spelled big business for toy shops. Tony Smyth of Smyths Toys Superstores added: 'Go Go Pets is a huge success story for us and for the toy industry in general, but we quite literally cannot get enough and have ourselves organised airfreight to ensure our customers are not disappointed.'
According to Healy; 'This is a classic case of having to react to what's happening in the market place. Demand for Go Go Pets is being spread by word of mouth and has resulted in sales the likes of which has not been seen for a number of years in the toy industry.'
The company is already focused on ensuring the clamour for the toys outlasts the festive season. 'This is an all-year-round product as it has lower price points and is extremely collectable,' says Healy.
Additionally the range will be expanded in the New Year in a bid to persuade those who managed to nab a pet at Christmas to expand their menagerie. There will also be a new range of accessories for the pets.
Marketers face challenge of predicting Go Go Hamsters and other hit toys at Christmas