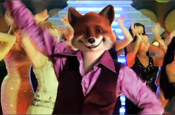 Foxy, the Foxy Bingo fox, is returning to TV screens to promote a £1 million giveaway by the bingo operator.

In the latest TV campaign, the trademark fox, who has received a CGI makeover, hurtles to Earth in a spaceship and lands in a forest, which promptly transforms into a 70s disco.

The campaign, by Biscuit.tv, is preceded by ten-second teasers in the style of mini movie trailers showing the spaceship heading for Earth and announcing: "He's back."

In the ad, Foxy and a large group of women launch into a 70s dance routine to the classic track Funky Town.
The ad is supported by a press and poster campaign.