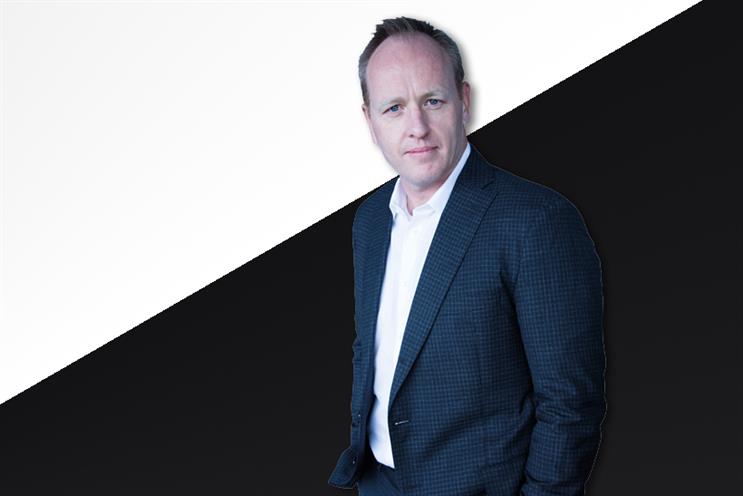 If Tim Castree puts his words into action, then major change is coming to MEC. "The next five years can't look the same as the last five – otherwise we'll get left further behind," MEC's global chief executive warns.
The Australian arrived in January from online video company Videology with a mandate to shake things up after a poor year in the US for the shop, which lost AT&T's $4bn account.
Since his interview with Campaign, Group M today (1 June) announced that MEC would merge with Maxus. While the new agency has not yet been named, Group M confirmed Castree would be its global chief executive.
Few agency bosses talk with such candour and urgency about the challenges facing not only MEC and its parent, Group M, the world's biggest media buyer, but the wider agency sector. "This is a fundamentally consequential time in our industry and for MEC," Castree declares.
Media agencies are facing "big forces of change" as the internet giants try to "disintermediate us", the management consultants want "to relegate us down the value chain" and new technology has led to a "fragmentation" of media channels, he explains. "Nothing is guaranteed or certain, even with MEC's history over the last 15 years," Castree believes. "It calls for radical transformation."
He spent much of his first 100 days trying to make staff recognise the scale of change that is required. There was a sense culturally that the gap between "where we are and where we need to be" has been "pretty close", Castree says: "I'm trying to widen the gap and light the fire of transformation in this 5,500-person company."
One of the reasons that the job at MEC "excites me" is because the future "isn't certain", he adds.
New generation
Castree's words carry weight because he is close to Kelly Clark, who became Group M's global chief executive last year. They represent a younger generation that has been tasked by Sir Martin Sorrell with rebooting Group M, following some bruising account losses that resulted in WPP warning of a revenue slowdown in March.
For Castree, the biggest issue is that "traditional media planning and buying is already a commodity – we're seeing massive downward pressure [on fees] from clients and low [economic] growth is adding to that".
So MEC needs to be "more relevant" in a data-driven world. Everything needs to be "better stitched together", he says, particularly around customer purchase journey planning, which has been a big selling point for MEC.
The future is about product innovation and the scaling of those products
Parts of MEC have been performing well, including Asia-Pacific and the UK, which won Nationwide and BMW in 2016, Castree notes. Content arm MEC Wavemaker is also growing strongly and is on course to generate 20% of global revenues by 2020.
Castree will unveil a new strategic positioning later in the summer but is clear about several points.
First, MEC needs to "restore the primacy of the client relationship" and "put clients' interests at the heart" of what it does – quite an admission. "We've lost [control of] the narrative," he says, acknowledging the impact of the investigation by the US Association of National Advertisers and wider debate about media transparency. "I think what's been lost is more in the story than in the substance – but perception is reality for clients."
Second, MEC needs to demonstrate its strategic importance to brands. "We haven't done a good enough job of selling the value proposition of MEC – why we need to be central in terms of client advice and strategic partnerships," Castree says. "We've got the raw ingredients but we haven't stitched together an end-to-end solution."
The future is about product innovation and the scaling of those products, with "a common spine of data" across every area of a client's business. "Better outcomes for clients is key," he says.
The third prong of Castree's strategy is to "lean into" Group M. "We have a history of not leveraging the scale and capability of Group M," he suggests – a surprising view given that WPP set up Group M in 2003 to leverage its buying scale.
MEC needs to demonstrate its strategic importance to brands
Castree says MEC can do more with its parent, particularly with its data and technology assets, which are housed in a new unit, [m]Platform, that combines insight and CRM data from Kantar and Wunderman.
Some observers wonder if centralising power in Group M is driven by cost-cutting and there is speculation that its agencies will move to a "single country" P&L. Castree plays down the "risk" that the agency brands could be diluted, insisting "operational efficiencies" make sense.
He sees MEC's role as "customising" Group M's capabilities to suit his clients. The agency is already "integrating" its purchase journey planning product with [m]Platform. "It's a perfect example of their scale and our distinctive customer tools," he says.
This allows MEC to become "extremely close to customers" and understand all the touchpoints on their journey. "We are in the customer intimacy business," Castree adds.
One of five children, Castree grew up in Melbourne and decided to work in advertising after a school project at the age of 15. He didn't go to university. Instead, Castree spent his early career at Leo Burnett in Australia and Bartle Bogle Hegarty in New York before moving to Mediavest, where he ran Procter & Gamble globally, and went on to be US chief operating officer. He became head of North America at Videology in 2014. Castree has an easy-going manner as he talks in Sea Containers, MEC's London home, and is eager to know which agencies are trying new things.
Those who work with Castree say he has brought great energy to his role, which was previously held by Charles Courtier for 14 years, and he has moved the headquarters from London to New York – a reflection that the US needs the most work. The danger, insiders suggest, is that Castree is so focused on change that he could sweep away some of MEC's strengths. Rob Norman, chief digital officer at Group M, says: "He's driven, with a hands-on understanding of the craft. He knows satisfying people and satisfying clients make for good commercial outcomes."
Change agenda
Castree says he has been "pretty impressed with the responsiveness of the organisation" to his change agenda. He remains "completely bullish" about the agency business model, arguing that agencies "don't get enough credit" for the changes they have made in the past five years.
"We have a real advantage over other firms that want to consult top-down," Castree says. "We can bring more relevant insights built from this foundational level – from executing."
But the status quo is not an option, "especially if you look at how deep the pockets of our competitors and frenemies are", he says: "If we act like we're in 'business as usual' mode, we aren't going to have the same relevance in five years' time."
The lowdown
Age 46
Lives Upper West Side, New York
Family Married with daughter (seven) and son (five)
Favourite media YogaTrail app (to find a class when I'm on the road), and watching The Handmaid's Tale on Hulu and Veep and Silicon Valley on HBO
Interests I am co-founder of anti-hunger campaign A Place at the Table and I coach my son's baseball team
Two things you don't know about me I could shear you a sheep or cook you a pretty good soufflé