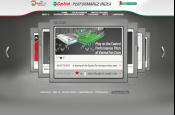 The motor oil and lubricants company made its football sponsorship debut by becoming one of 10 principal sponsors of UEFA Euro 2008 tournament, alongside global brands such as Coca-Cola, McDonald's and Adidas.
An official announcement of Castrol's sponsorship of the world's highest profile football tournament will be made later today. FIFA currently has six global partners and five FIFA World Cup sponsors, including McDonald's, Budweiser and Continental. The 2010 FIFA World Cup takes place in South Africa. The deal will also span the 2014 FIFA World Cup in Brazil, as well as two FIFA Confederations Cups.
Castrol has leveraged its sponsorship with Euro 2008 in a number of ways, including the Castrol Performance Index website, which monitored the performance of players participating in the tournament, which concluded yesterday with Spain's 1-0 win over Germany.
Castrol promoted the site through a series of PR events involving its brand ambassadors, including Arsenal manager Arsene Wenger.