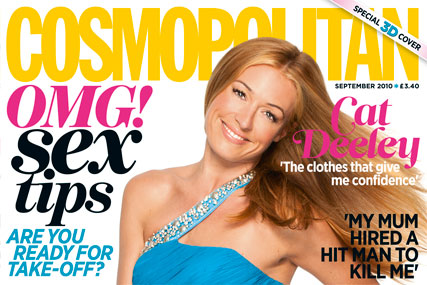 Deeley, who is the face of Pantene Pro-V Aqua Light, appears to "swish" her hair on the cover when it is tilted by the reader. The cover has been created to mirror Pantene's "Make a Swisssh" campaign.

The special edition will have a print run of 50,000 and will be available exclusively in Tesco stores nationwide from today. It is the first time Cosmopolitan has published a limited edition cover exclusively for a supermarket.

The campaign is supported within the magazine via a three-page Pantene Pro-V Aqua Light promotion, a Cat Deeley "Confidence Confessions" double-page feature, and a free Pantene product and £1 voucher.
Both the promotion and the feature appear in all September issues of Cosmopolitan, which, outside Tesco, have Gossip Girl's Leighton Meester on the cover.

The campaign is also running online with five months of digital activity on Cosmopolitan.co.uk. Users are directed to a site of "swish" activity (www.make-a-swissh.com) where they can upload their best-captured hair swish to enter a free monthly prize draw.
The campaign will also be supported by outdoor activity in partnership with Boots and the Clothes Show in Birmingham in December.

Justine Southall, publishing director at Cosmopolitan, said: "Cosmopolitan is focused on long-term innovation. As such, we're always looking for fun and creative ways to engage our readers and work with clients. Our lenticular cover has enabled us to do this perfectly by bringing Pantene's campaign to life and providing real standout on the newsstand."