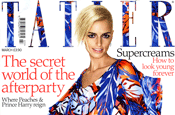 Ostler replaces Geordie Greig, who resigned from the role earlier this month to become the editor of the London Evening Standard.

Ostler became editor of ES in 2002. Prior to that she was a features writer with the Daily Mail.

Ostler was chosen from a shortlist of seven candidates for the position. Other names that had been tipped for the role were columnist Toby Young and writers William Cash and William Sitwell.

Greig, who had edited Tatler for almost a decade, replaced Veronica Wadley as editor of the Standard after the paper's ownership passed from the Daily Mail & General Trust to the Russian billionaire Alexander Lebedev.