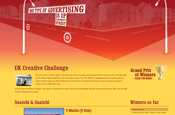 The inititiative has already seen ten creative agencies showcasing their best creative work on the side of London buses.

Each fortnight people get the chance to vote for their favourite on the competition website www.upeveryonesstreet.co.uk.

Now, CBS has introduced a 'Wild Card' round to the competition which will allow any creative individual, team or agency with an innovative idea for a bus T-Side or superside to showcase their work on the website.

The amateur entry with the most votes will be entered into the first round of the Grand Prix, where it will join work from Saatchi & Saatchi, Euro RSCG, Y&R, MCBD, CHI, VCCP and BMB on London buses for a public vote.
The winners of the first two rounds of the competition were Union for Visit Scotland and Haygarth for Majestic Wine. Saatchi & Saatchi's work for T-Mobile is currently running on London buses.

The four Grand Prix entrants with the highest number of votes will go through to the final stage of the Grand Prix where a judging panel will determine the ultimate winner of the top prize of a holiday.