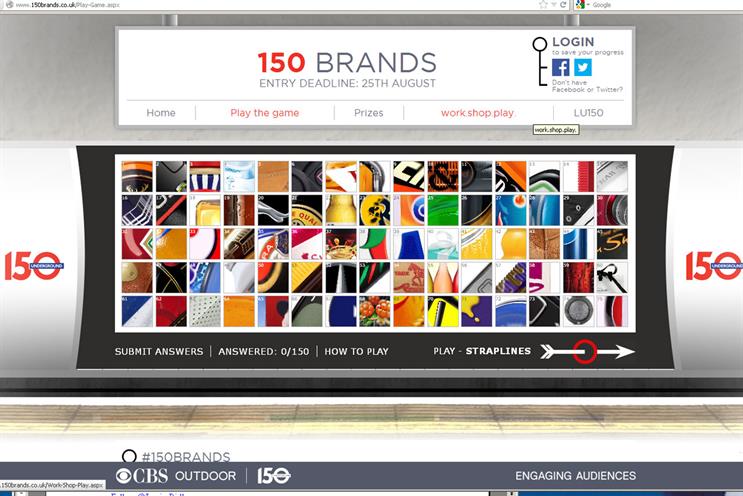 Posters on show at high-profile Tube stations from today ask people to recognise 150 brands from famous ad straplines, such as "We're better, connected" and "Never knowingly undersold".
Another poster version asks people to guess brands from product snapshots from companies that have advertised on the Underground.
Players can enter their guesses online at 150brands.co.uk, to enter a prize draw to win a year's free travel.
The game is part of London Underground's 150-year anniversary celebrations. Advertising has appeared on the network since it launched in 1863 and more than 7,000 brands have advertised on the Tube since 1995 alone.
The campaign, for Transport for London, is a follow up to CBS Outdoor's "look for longer" game, which went viral last year.
It challenged viewers to work out which London Underground stations the 75 cryptic visual clues represented in an illustration featuring nuns, an angel and a sheep in a bathtub.
The '150 Brands' posters are being displayed at 78 stations around the capital, including London Bridge, Oxford Circus and Green Park, for the next two weeks.
Simon Harrington, the marketing director for CBS Outdoor UK, said: "Just like other cross-track adverts, this will engage with commuters just when they're standing on the platform and looking for a distraction.
"Advertising has been on the Tube for as long as the trains, tracks and tunnels – 150 years. We're already a proud sponsor of the London Underground's 150th anniversary, but this game is a great way to involve the advertising industry in the celebrations and learn about the London icon's rich heritage at the same time."