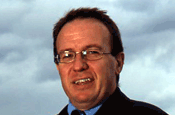 Justin Stark, the head of Impact, its non-traditional sales division, and the company's marketing director, Carol Wolrich, are among those understood to have left.

It is thought CBS plans to make up to 30 redundancies across Europe.

It is believed CBS is in discussions to fold its Impact sales team into the main sales team.

The restructure is said to involve breaking up the company's marketing department into smaller divisions and the removal of the marketing director role.

Staff within these divisions will report to individual board members.

The redundancies follow the resignation in May of Andrew Oldham, the chief operating officer of CBS Outdoor for the UK and Ireland.

The business is now run by Tim Bleakley, the UK managing director.

CBS launched its cross-track projection service (XTP) on the London Underground in June this year and signed up Nestlé, Sky, Magners, Paramount, InBev and Dewynters as the official launch partners.

The redundancies come as figures last month showed the outdoor sector suffered its biggest year-on-year decline in adspend in almost six years during Q1.

It was down by 6.9 per cent compared with the same period last year.

Bleakley refused to comment on the story.