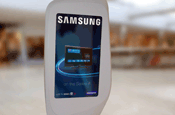 CBS Outdoor's digital advertising opportunities at Westfield include 110 bespoke, 57-inch LCD screens housed within pods specifically designed for and by the centre.

The pods are double sided for maximum visibility, images are in HD and there are three landmark screens.

The largest of the three screens measures 13m by 4.5m and will be located above The Atrium, the main event space within the shopping centre.

Each screen is linked to a new digital advertising network enabling partners to remotely update their messages on a 60 second loop.

Nicky Cheshire, director of Alive, CBS Outdoor's digital division, said: We believe that our unique digital proposition at Westfield will redefine retail advertising in the UK and bring a host of new advertisers into our market.

"The high production values, flexibility of targeting and stunning retail environment will offer advertisers a premium platform for captivating some of the capital's most affluent consumers.