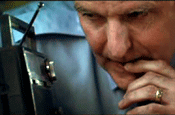 The ad, shot in super slow motion, shows fans around the world moments before a ball is put on the penalty spot.

Some fans listen on their radio, others watch on a black and white TV set while those in the stadium look nervously on.

When the ref blows his whistle, the penalty is taken.

Soon all that's left are the cheers, the stadium chairs lifting up as fans rise to their feet and the ecstatic smiles.

The endline is: "We speak image".

The ad is supported by print work shot by Rankin and online activity.