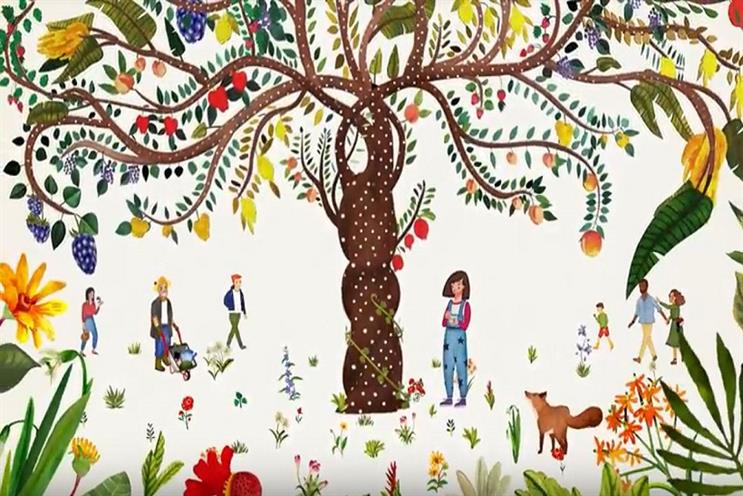 The humble workers over at Chobani would never take credit for it, but the brand pretty much kick-started the Greek yogurt movement that reigns supreme in today's wellness-honed culture.
Fast-forward 10 years from its launch, and Chobani is poised to unveil its most aggressive campaign to date in a bid to stay the market leaders. They're no longer the new kids on the block. So as a thanks for making it the top-selling yogurt in the country, the brand wants to give a free yogurt to you, and your mom, and your friend—basically all 323.1 million people in America.
"This is definitely a challenging one, because it's our most ambitious and integrated campaign that we've ever done," said Leland Maschmeyer, chief creative officer at Chobani. "Not only are we working across channels and media to deliver a holistic, multi-touchpoint messaging, but we're also working with each of our individual retailers on a very specific, localized level."
The "One For All" campaign (created in-house and with the help of production companies Hush and Stink) will include national TV ads, a special voice command for Amazon Alexa users to redeem their coupon and even an interactive experience at Grand Central Terminal in Manhattan, where commuters can plant virtual seeds that bloom into a digital fruit-tree canopy overhead.
Chobani has pledged that for every seed that's planted, a donation of yogurt will be sent to No Kid Hungry, an organization working to ensure every child in the US has access to healthy food.
It's a campaign that's been nearly a year in the making, and follows a rebrand back in November in which the product's packaging was totally overhauled. Maschmeyer said that having dominance over the market offered the perfect chance to plan ahead.
"The question starts to become, as we grow and have more scale and impact, how to do we go about doing that?" he said. "We were the category leader, and we felt that the best time to really differentiate ourselves and build for the future was when we were in a leadership position. That gave us the freedom, comfort and the time to make the right decisions so that we were building toward something great rather than reacting to an immediate challenge or problem."
Market dominance, perfectly timed relaunches and well-oiled campaigns—it all sounds too easy. But Maschmeyer will be the first to say that the road hasn't always been smooth. "Every company and every person makes mistakes, but that's the way you grow," he said. "Those are the things that give you the fuel for going forward."
Chobani's journey has seen the brand grow from five workers to more than 2,000. The first plant was opened in 2005, and by 2010, Chobani was the number one selling Greek yogurt in America. Production grew in 2012 when a second plant was put into operation. Today, the Twin Falls, Idaho location is the world's largest yogurt manufacturing facility, the result of a $750 million investment.
Staying on top of the game over the next decade, however, will require even more change. Maschmeyer said the brand's focus will fall on the idea of "making universal wellness happen sooner." A key part of executing this will be working closer with communities. "What makes companies really powerful is not what they say but what they do," he stressed.
Chobani's success has, in part, been powered by a societal change of attitude towards wellness and a healthier lifestyle. "We are trying to create positive change, not only in the food industry but society as well, and if that has cascading impact and it's inspired other people to do that as well, then that's wonderful," Maschmeyer said. "But we really like to stay focused on what we're doing, not claim too much for ourselves, because that's not the point."