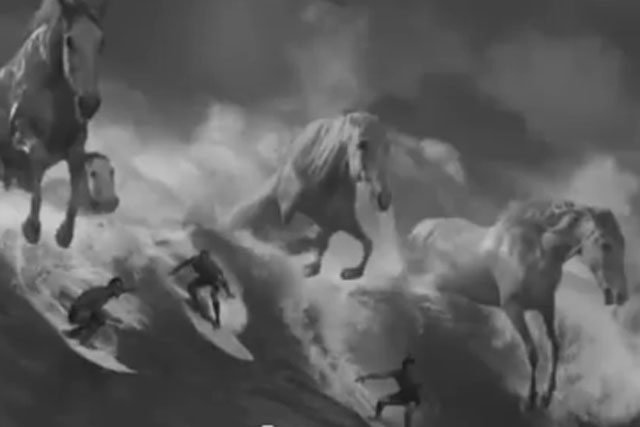 Kicking off the best of the Guinness ads is one aimed specifically at St Patrick's Day revellers. This ad, launched in 2012 and created by Abbott Mead Vickers BBDO features a set of highly trained sheepdogs rounding up a group of men and deliver them to the bar on St Patrick's Day.
Another St Patrick's Day offering from the brand shows an excited group of men rush from their beds to open presents wrapped in green under the 'St Patrick's Day' tree.
According to figures from Unruly, which powers our weekly viral chart, this next ad, "basketball" by BBDO NY, is the most-shared from the brand. With more than 700,000 shares, the ad was launched in 2013.
Widely considered Guinness' best ad ever, "the surfer", was created by AMV BBDO and was launched on St Patrick's Day in 1999.
This AMV-created ad follows the reverse-evolution of Guinness-drinking comrades to salamanders dissatisfied with drinking river water and ends with the brand's line: "Good things come to those who wait."
Meanwhile, Guinness does not just produce seasonal marketing for St Patrick's Day. This ad from 2011 takes a shot at Christmas schmaltz, concluding with the line, "Even at the home of the black stuff, they dream of a white one".
In 2014, Guinness waded into the branded content game with a five-minute documentary on the 'Sapeurs' of Congo Brazzaville. AMV BBDO also created the documentary campaign.
Crossing the Atlantic Ocean, St Patrick's Day is enjoyed in the US with the "surprising" taste of Guinness Black Lager in an ad created by BBDO.
And, to end the round up, this Ogilvy & Mather-created ad from Guinness shows, with wit and charm, why women and men shouldn't live together. The ad never ran, however, after a negative backlash.
This article was first published on Campaignlive.co.uk.