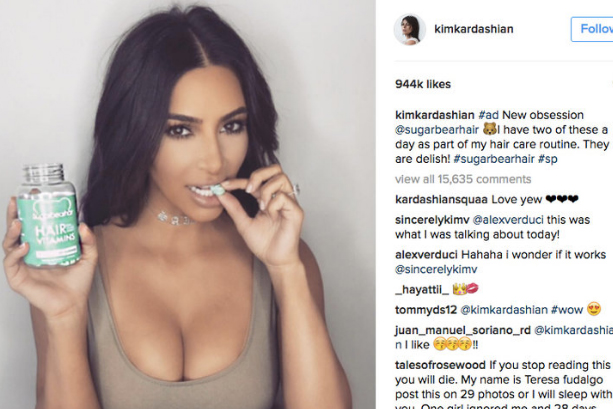 Captiv8, a San Francisco agency that acts as a middleman between brands and so-called influencers, also said stars with up to 7 million followers can make $75,000 for a post on Instagram or Snapchat and $30,000 for a single tweet.
The data, first seen by The New York Times, comes after last week's Instagram post by Kim Kardashian in which she published a video sponsored by hair vitamins provider SugarBear Hair.
The post, which began with the hashtag #ad, said: "Excited to be partnering with @sugarbearhair to share their amazing hair vitamins with you! These chewable gummy vitamins are delicious and a favourite part of my hair care routine."
In June, research showed that PR and marketing professionals are now more likely to use social media influencers than other types of traditional celebrity for campaigns, while favouring YouTube as their preferred channel.
Since then the International Consumer Protection and Enforcement Network issued new guidelines which said YouTube vloggers and other digital influencers must disclose all paid-for relationships clearly in any content they post.
Last year the Advertising Standards Authority said it wanted to create clearer guidelines for vloggers and brands after it banned a YouTube ad in 2014 for Oreo by vloggers Dan and Phil, who did not make clear that they were being paid by Mondelez to make a video about a "lick race".