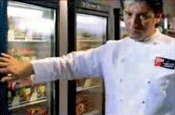 Advertising agency Maverick created the ad, which aims to rebrand Findus as a high-quality producer.
Novelli has created a range of new recipes for the firm, using GM-free produce.
Vidar Engen, managing director of Findus, said: "This is our first TV campaign in more than five years and definitely worth the wait."
Owen Rees, client services director for Maverick, said: "Combining a chef of Novelli's stature with the house-hold brand of Findus, meant we were able to deliver a creative and educational marketing campaign."