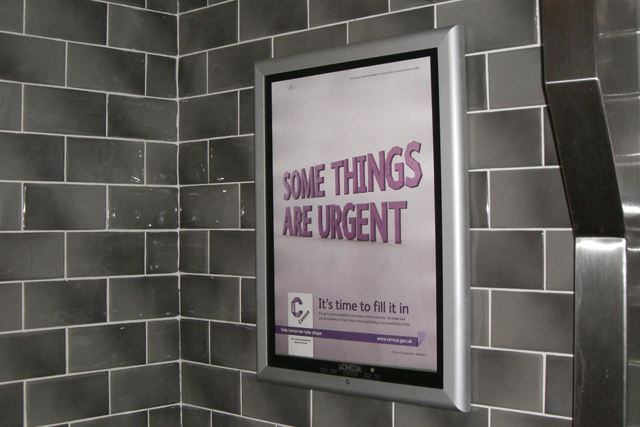 The second part of the campaign, led by the Census' Bray Leino with media by MediaCom, is aimed at students and people from the lower economic groups, known as C2DEs, who believe the Census is not about, or for, them.
An interactive digital banner ad will sit on sites such as Facebook, Yahoo and You Tube. It prompts users to click on a purple football and take shots of goals, while carrying a strong underlying message to fill out the Census.
Six weeks of editorials in magazines such as Heat and More, some of which were announced earlier this month, will be specially targeted towards the readers of those titles.
The Bauer Media weekly Heat will use a tongue-in-cheek pop art style comic strip called 'Can't be Bothered Clare' about a woman who ignores the Census form, and suffers the consequences.
The ambient element of the campaign will use messages such as "get stuck in" on pizza boxes and curry lids, "last order's" on washroom panels, and "you can't sit this one out" on table tops at student unions and bars.
The push will be supplemented by three new TV ads and outdoor creatives to amplify the message of the main campaign, which started in February.
Oliver Doerle, head of marketing for the 2011 Census, said: "To fulfil our objective of improving engagement with this audience we know we have to do more than simply take the core campaign and push it out via channels young adults use the most.
"The key to it is making sure the content and creative we go with will resonate with the audience and actually encourage them to participate in this year's Census, something that Bray Leino has been instrumental in helping us achieve."
The first TV ad in the three-phase campaign to encourage households to complete the 2011 Census went live on 21 February.
The creative concept has an origami theme and acts as a call to action, urging the public to "help tomorrow take shape".