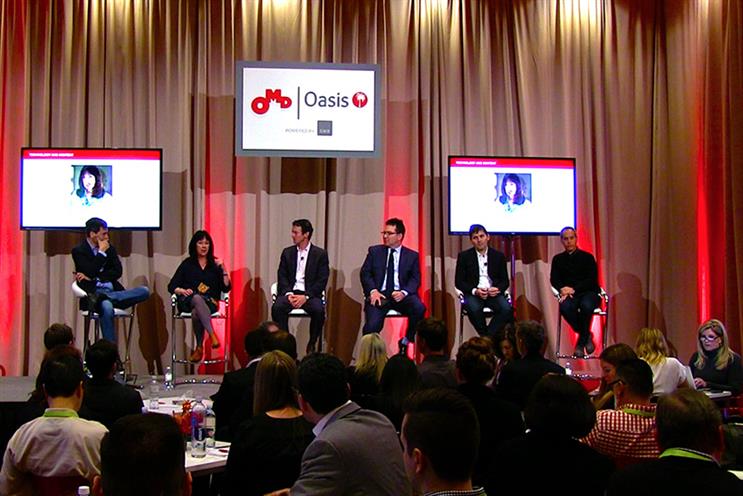 LAS VEGAS —Technology has democratized creativity to the point where all agencies need to be creative agencies, according to Ann Wixley, creative director, OMD UK.
Speaking on a panel about technology and creativity at OMD Oasis, part of CES International on Tuesday, Wixley discussed the need for better collaboration among agencies.
"There are a lot of different parties around a table, all in service to the big idea, and everyone wants piece of the pie," she said.
"But times have changed and we all need to be creative agencies. I think media agencies are creative agencies too. I hate just giving the 'creative agency' title to just one type of agency — that makes my hackles rise," she said.
She said that successful collaboration between technologists and creatives can be difficult to broker. "Technology has meant that ideas are coming out of a lot of different places.
"Technology inspires ideas and ideas inspire technology, but it is hard to navigate that process and get deep tech specialists collaborating with deep creative curators," she said.
Expanding on this issue, Ben Malbon, director of creative partnerships at Google, said that partnership crucial in this new creative landscape. "Those that will partake in the future are those that can partner well.
"This means recognizing what you can and can't do ... understanding where the cross-fertilization of skills and backgrounds lies. Figuring out how to get people working together effectively is really, really hard," he said.
According to Malbon, the main problem with creative and technology partnerships is that the "languages people speak are different." To resolve this, organizations need to people to architect the coming together of different skills sets. Otherwise, "you get really frustrated and expensive talent that will bounce around agencies a lot."
Narcissism and the selfie craze in marketing
The panel discussed how social media, and tools like the dreaded 'selfie stick' are driving narcissistic behavior from consumers, which many brands are jumping on, leading to numerous selfie campaigns.
Miha Mikek, CEO of mobile advertising firm Celtra, described these sort of campaigns as "mousetraps." He explained that a lot of brands get "frantic" about being on all the social networks.
"Because technology became so cheap and available, and people showed their narcissism for the first time, the brands got all nervous. But we will go over this wave and it will normalise," he said.
There are aspects of this narcissistic moment in time that are helpful for brands, such as crowdsourcing, said Shawn Amos, founder and CEO of content studio Freshwire. "I'd like it if brands and consumers had shared value points, rather than a continuation of the self constantly," he said.
He added that bravery on the part of brands comes from being able to "understand that the story is not just about them, but sharing space with others."
Stephen Butler, chief creative officer of TBWA\Chiat\Day Los Angeles, pointed out that the selfie is a product of technology, and the craze is largely generational. "On the one hand you have this rise of narcissism, and on the other this disinterest in ownership," he said.
Opening the panel discussion, Butler talked about how historically tech always delivered the future for us and now it has the possibility to to deliver us to the present.
"Brands have to evolve the present to be involved in the future. Any brand trying to create global ideas and predict or project is out of the game.
"I love how technology has made us present tense," he said.