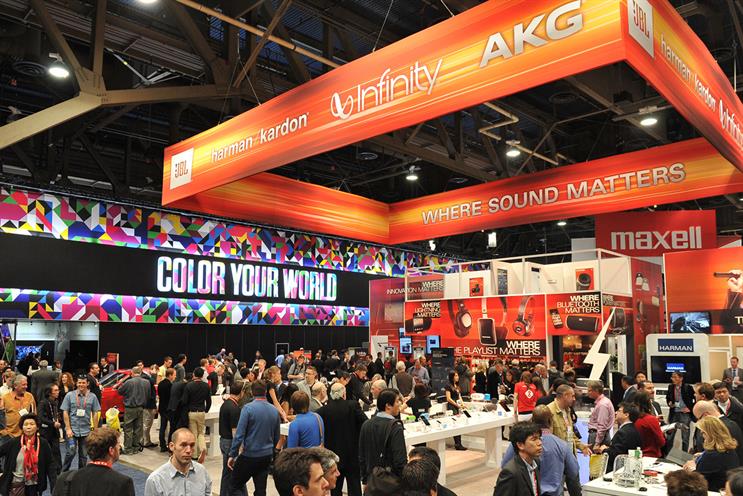 The 2013 International Consumer Electronics Show was bigger than ever. The Las Vegas Convention Center's three exhibition halls are a challenge to navigate at the best of times, but with more than 150,000 delegates, it's not uncommon to rack up close to ten miles of walking in one day.
Skipping the booth babes, the gambling, the rivers of booze and the hookers, here are observations around five themes from the show.
The year of the phablet?
Tablets are shrinking as they become more prolific. Highly competitive manufacturers in the market have made tablet devices more affordable to the masses, and the development and uptake of smaller tablet screens and larger smartphone screens has produced a hybrid. What you perhaps were less familiar with before reading this was the fact that these offspring have been affectionately named phablets. Love it or hate it, it's out there… so live with it.
Any content, any device
With the proliferation of tablet and smartphone devices, broadcast TV viewing habits have changed.
Dish showcased its multifunctional device Hopper, which allows users to view programming in multiple rooms in the house, record shows and skip ads. Additionally, the box collects and offers social-media conversation in real time about shows being watched. Dish users can choose to share their own updates via the TV. This detailed viewer behaviour generates an excitement rating for programmes, offering viewers a useful barometer of what to watch or skip.
LG has utilised near field communication technology for this theme, with Tag+ to support users with the sharing of content between TV, tablets and phones.
Enabled devices are paired up to facilitate the upload and download of content via an easy "tap" to the NFC facilitating pad. Think an Oyster card for content transfer.
The connected car
Connected cars have long threatened to become a place to reach drivers and provide services and utility. This offers an entirely new battleground between automotive-makers in their hunt for customers. However, while the car was recognised well over a year ago as the third-fastest-growing connected device, progress, I fear, is too slow. That said, glimmers did appear in Vegas as Ford demonstrated advances with the dashboard Glympse app (pictured below), which safely allows drivers to share their location and journey progress via social media.
Another highlight came from Delphi, which partnered with Verizon to launch a Vehicle Diagnostics device and associated Connected Car service. Delphi's hardware plugs into the car, allowing access to vehicle data via a smartphone app so drivers can check fuel level and engine temperature. Using the device's GPS chip and car location, parents receive a warning if the vehicle exceeds certain speeds and are notified when the car travels beyond an approved geographical range. In addition, the app can control key-fob functions such as remote unlocking and engine start-up.
It would not be a CES without a mention of automated (self-driving) car technology. Google now claims to have completed more than 350,000 miles of successful tests of its automated vehicles, while Audi announced that it is to become the first automotive-manufacturer to be granted the licence from Nevada to run tests on public roads.
Personal health management
ABI Research claims nearly 30 million wireless wearable health devices were shipped in 2012. The same analysts predict that nearly 48 million devices will be sold in 2013. We're familiar with programmes such as Nike+ FuelBand, but connected health devices will continue to include more sensors to measure our lives.
Fitbit Flex is an activity- and sleep-monitoring wristband that tracks steps taken, distance travelled and calories burned, providing immediate feedback on your progress throughout the day with bright LED indicator lights. It also tracks how long and how well you sleep.
HealthSpot demoed consultation pods that offer remote access to a healthcare professional and a way to share and process your collated data. Is this the first step towards the realisation of the health pod in Prometheus? More tangibly, these technologies present an opportunity to optimise healthcare costs, and the biometric data that users choose to share will allow insight into the potential for targeted communications based on health, physical and emotional state.
Humans as interfaces
Gesture- and voice-activated technologies continue to mature into the realms of perceptual computing. Gaze-tracking functionality is both easy and cost-effective to build into tablet devices. Facial recognition, too, will become a fundamental functionality.
Utility and genuinely useful devices featured heavily at the show, including the next-generation Nest thermostat, which learns the temperatures you like in your living environment, turns itself down when you're away to save energy and has remote access using the Nest mobile app.
So there it is – not everything, of course, but I was able to confirm that you, your health, your TV, your car and your mobile devices (and your phablet) will continue to remain in focus in 2013.
Daniel Bonner is the global chief creative officer at Razorfish