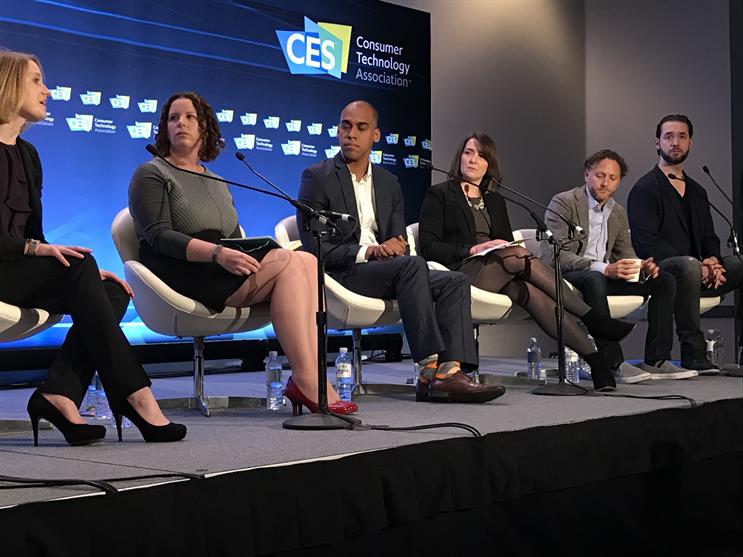 The sharing economy gives more freedom and options to the consumer and, as data shows, these types of services are on the rise. eMarketer estimates that in 2017, 30.9 million Americans will use sharing services like Lyft, Uber and Airbnb. But the rate at which these companies have grown has policymakers on edge.
In a panel called "New Technologies Revolutionizing Mobility and Tourism" Saturday at CES, leaders of the sharing economy space called for the need of more open discussions with policymakers to prepare consumers for what they called "inevitable technology"—the integration of autonomous cars and ride-sharing services, and the growth of home-sharing.
The panelists included: Alexis Ohanian, cofounder of Reddit; Casey Aden-Wansbury, director of federal affairs and engagement at Airbnb; Hilary Cain, director of innovation policy at Toyota Motor North America; Michael Masserman, senior director of government relations at Lyft; Matthew Johnson-Roberson, assistant professor at the University of Michigan; and Nicole DuPuis, principal associate at the National League of Cities. Jamie Boone, director of government affairs for the Consumer Technology Association, moderated the discussion.
"Policymakers are now understanding that this technology is an inevitability," said Cain, who plans on partnering Toyota's future autonomous cars with a ride-sharing service like Lyft. "But some of them are scared because this is transformational."
"What we see across the board here is that consumers really want options and potential," said Reddit's Ohanian. The sharing economy has provided that, he explained, and discussions with policymakers are "long overdue."
Policymakers are concerned about issues surrounding public safety, protecting existing service providers and complying with existing laws, said National League of Cities' DuPuis. "These are the things city officials always have to think about," she said.
For instance, while the increase of autonomous cars on the roads could mean saving tens of thousands of lives from car crashes, it also means a significant loss of jobs for drivers. According to Toyota's Cain, four million Americans currently have jobs that revolve around driving. "We have no idea on what the impact is going to be on those making a living driving," Cain admitted. "I think we have to really have an honest conversation about what options might be available to them."
"Beyond autonomous cars, it's a pervasive issue that we have to think about society wide," added University of Michigan's Johnson-Roberson.
Airbnb, for example, has had issues with government regulations and has drafted guidelines of best practices for cities. "While it's not a one-thing-fits-all scenario, there are patterns that begin to emerge," said Airbnb's Aden-Wansbury. "Beginning to share those best practices and help cities figure out what combination of policies work best is something we are very encouraged about." Aden-Wansbury added that more dialogue about what these services do and how they benefit local communities will make the integration of sharing services easier. The highest adapters of Airbnb, she explained, are actually senior women, and the largest population using the service are underserved communities.
Masserman said that partnering with governments has been critical for Lyft. "Change is hard, change plus regulation is really hard, change plus regulation plus transportation policies…I mean, some of these policies haven't been changed in 50, 60 years," he said. "Having honest dialogues has served us well."
"I try to remember that lawmakers are people, and people generally fear what they don't know," said Cain. "Just as we have to be patient with our consumers, the policymakers have to go on that journey with us too."