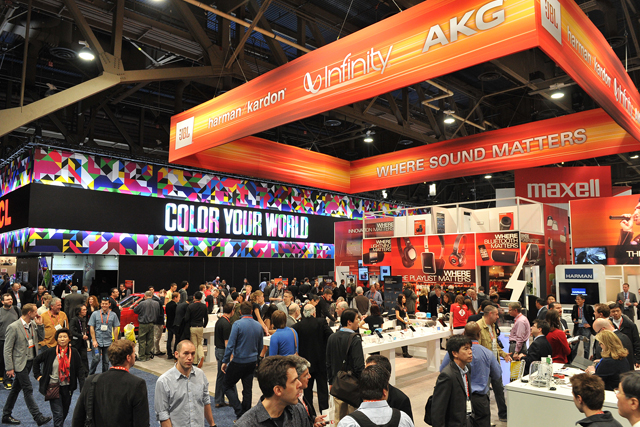 By many accounts, International CES 2013 in Las Vegas will likely meet or surpass last year's attendance of more than 160,000 people - many of them marketers and their teams, looking to identify and deploy the latest in consumer electronics on behalf of their brands.
The big question that marketers wrestle with when confronted with such a mind-numbing array of gadgets and innovation is: which technologies will be stickiest with consumers and how can I get them to work for my brand?
Good question, and here's the answer: the smartphone. Nearly every 'wow' at the show this year has one embedded as a core piece of technology, taking the existing mobile user experience into new utility - a great example being Polaroid's Android-enabled camera, which attaches to a smartphone. That's just one example of many that coalesce into five key trends. These will affect consumer behaviour and therefore must be on your agenda.
1. THE CONNECTED CAR
The self-driving Lexus aside, there are two areas to watch. In the near term, apps are being imported to the in-car experience, with both Ford Sync and Pioneer AppRadio opening up their systems to developers, linking apps to smartphones.
In the longer term, it is likely we will see the functionality of apps embedded in the car to make the driving experience more intuitive - Hyundai's Intuitive Connectivity Concept (pictured) re-imagines the car 'cockpit', with gesture control, heads-up display and smartphone mirroring technology.
Why does this matter to marketers?
The car is one of the most underexposed and undervalued environments in which to reach consumers, many of whom spend up to an hour commuting every day on the road.
Making that experience more enjoyable, and more productive, with apps such as navigation tool Waze, can only increase consumers' trust in brands. Moreover, as consumers extend their love of localised mobile apps, like Yelp! and its ilk, to the car experience, there is also the obvious benefit of applications making brands and their stores easier to find and buy from.
2. BREAKING THE BATTERY BARRIER
An underappreciated aspect of innovation in technology is power supply. Research and development in this area tends to take a very creative turn, with a strong emphasis on sustainability.
There were three interesting solutions to note at CES: Goal Zero's solar-powered products are getting more portable; Datexx's USB charger emphasises longevity, holding a charge for six months; and, probably the most innovative, the Nectar Mobile Power fuel-cell system (pictured), which charges a phone for two weeks via recyclable cartridges.
Why does this matter to marketers?
Simple: more power equals more functionality. Anyone who has lost phone power after less than a day will agree - they would probably use their handset more if they didn't have to keep an eye on its battery life.
In the near term, enhanced battery life will mean increased use of more screen-intensive applications, such as video. In the longer term, it frees up devices to process more, do more, and become more useful in consumers' lives.
3. TELEVISION: MORE REAL THAN EVER
Sharp's 8K TV and Sony's 4K TV (pictured), which mimic retinal display, are jaw-dropping. However, like 3D TV, lack of content will hamper adoption, even as prices decline. More important are connected, personalised TV experiences, such as Samsung's s-recommendation. It aggregates video content across platforms and delivers personalised recommendations based on viewing patterns, all driven by voice-recognition software.
Why does this matter to marketers?
TV - or, better, video - is just as important as ever. With social media now driving a return to TV to fuel conversation, consumers value it increasingly.
Marketers need to be keenly aware of the opportunities that connected TV viewing can bring, mapping their brand across a multi-screen experience that enables consumers to share the story across their widening social circles.
4. LABOUR-SAVING DEVICES
The connected home was a dominant theme - from household controls and smart kitchens to household bots, such as the Winbot from Ecovac that takes on the mundane task of window cleaning (pictured). Innovation in this space tends to be incremental rather than revolutionary, but more and more are being linked to intuitive smartphone use.
Examples include the LG oven that sets the temperature according to the recipe on your smartphone, or the Samsung fridge that is linked to apps such as Evernote for writing shopping lists.
Why does this matter to marketers?
Linking appliances to apps boosts their functionality, making widespread adoption more nearthan long-term. That makes them more embedded in people's lives - laundry ads served to the washing machine, and mayonnaise coupons served to the fridge, will be welcome and timely, rather than intrusive.
5. HEALTH TECH GETS FUN
Healthcare technology offerings continued to proliferate this year, with the emphasis shifting to staying healthy, and the technology taking a more lighthearted turn: the motion-sensor HAPIFork that slows eaters down to a healthy pace; and GeoPalz (pictured), an app-connected pedometer that rewards kids for staying active.
Why does this matter to marketers?
Proactivity and preventive health management are very rich areas for many brands. The combination of the right technology and the right upbeat spirit gives brands great alignment that drives brand likability.
The challenge for marketers will be to develop partnerships with the people behind these innovations in order to deliver meaningful content that complements and enhances the technology experience - and doesn't impose on consumers or interrupt them.
... all enhanced by a deeper understanding of the user experience
One thing is clear: the near-term success of many of these innovations will depend on how well they provide an intuitive user experience. Consumers want a short learning curve, and the more 'plug and play' the technology is - from building on existing apps to using gesture recognition, eye tracking or voice control - the sooner it will be adopted. For marketers, better user experiences equal lower risk.
INFORMATIVE, INSPIRATIONAL AND DEAL-MAKING: WHY CES REMAINS IMPORTANT TO MARKETERS
There is considerable handwringing, particularly among the technology media, that CES, with its emphasis on gadgetry, is becoming less relevant. Critics cite the absence of the biggest technology players as exhibitors - Google, Amazon, Apple - as a definitive sign of declining importance.
For marketers, however, CES is a rare chance in a busy year to dedicate time and attention to how technology is affecting their business. Yes, marketers come to see the latest developments and get inspired, but the real value is in the conversations, strategies and deal-making that goes on around the event. Fewer marketers are actually walking the floor, dedicating the bulk of their schedule to partner meetings and agency discussions.
There is also the rare 'CES moment' when a marketer discovers a solution to a business challenge. An example would be the Dynamics ePlate (pictured) - a physical card linked to a mobile application that aggregates consumer behaviour across a host of different programmes, allowing shoppers to choose their rewards from among merchandise, content and experiences. For manufacturers, particularly in the packaged-goods space, where loyalty programmes are difficult to construct, this kind of technology is flexible enough to wire into a variety of brand experiences.