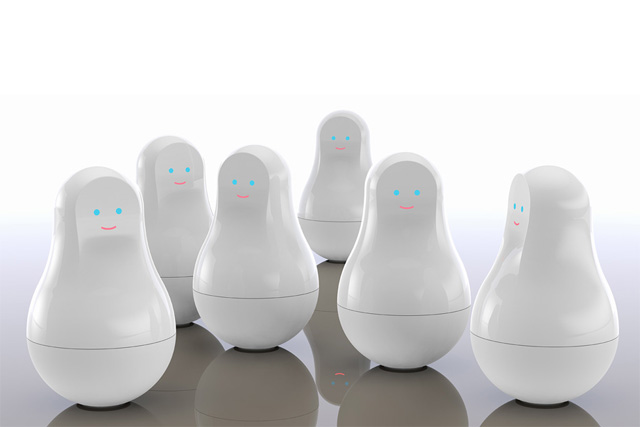 Shawn DuBravac, chief economist and director of Research at the Consumer Electronics Association, in a speech ahead of today's official launch of the show believes we are now "entering the third industrial revolution".
DuBravac argues this revolution will be characterised by manufacturers no longer mass producing products and, instead, products will now be customised for the individual user.
This idea of personalisation will be on full show at CES 2014, with 7,000 square feet of exhibition space dedicated to the field of 3D printing.
One product that has already grabbed the headlines at this year's show is Mother, which is in the shape of a Russian doll and being marketed as a digital replacement for your mother.
Mother, like all human mothers, is able to nag you about home life by attaching "cookies" to everyday objects to monitor things such how much coffee you are drinking, whether the kids are coming home on time and can even see if you have brushed your teeth.
Ben Wood, chief of research at CCS Insight, predicts another thing to look out for at CES will be the latest developments in wearable technology.
Wood said: "The $100 million invested in wearables through crowd-funded efforts such as Kickstarter proves this is a category with explosive growth potential. While this approach will undoubtedly produce some stars, many wearable devices will have their five minutes of fame at shows like CES before disappearing into oblivion."
However, all the data-tracking abilities being touted by wearable technology firms is making some observers uneasy.
I used to be all for wearable tech. But seeing how everything announced at #CES2014 are all just tracking devices makes me feel a tad uneasy

— F.Nelin (@fnelin) January 7, 2014
Samsung is the company making the most noise so far at CES and is showcasing a new app that controls all devices in the connected home, a curved TV and a slew of new mobile devices at the show.
However, its centrepiece event, the unveiling of its curved TV, was ruined by gremlins in the teleprompter and 'Transformers' director Michael Bay fluffing his lines.
Someone who did not mince his words is McAfee founder and former fugitive John McAfee, who hailed Intel's decision to drop the McAfee brand name.
He told the BBC: "I am now everlastingly grateful to Intel for freeing me from this terrible association with the worst software on the planet. These are not my words, but the words of millions of irate users. My elation at Intel's decision is beyond words."
McAfee founder has proved an embarrassment to Intel through his colourful private life and the way he has lambasted the software he initially created.
Make sure you keep track of daily developments at CES by reading Marketing's daily blog on the show and in the meantime, here is some of the pre-show hype on Twitter: